Overview
This article describes the process of disabling certain module access for specific users even if they're on the same access level. For example, if both users are supervisors, but one of them does not require access to the Rota module at the time.
This process ensures that this change will only impact one user, and not all users on the same Access Level. Module Access can be enabled or disabled whenever required.
Disabling Module Access
Go to HR > Employees > Employee List
Search for and select the required Employee
Select Access Summary in the Employee Access drop-down menu


Fig.1 – Access Summary in Employee Access Drop-Down Menu
Tick the Access Disabled box against the required Module

Save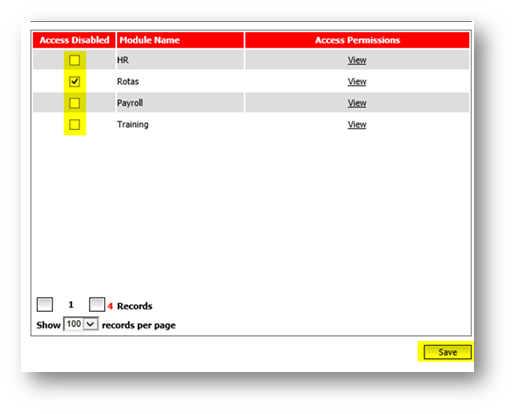 Fig.2 – Access Disabled Box
To re-enable a module which was disabled, follow the same path as above and de-select the box against the module

Save

Things to Consider
The number of modules which display on this page will be reduced if the modules have a template assigned to them which is below the access level that the employees record is on. For example, if the access level the employee is on only has templates set against HR and Rotas, but not Labour Productivity, then only HR and Rotas will be displayed.