Overview
If a non-rota employee has answered and submitted questions on the Health Survey app, their Health Status will of course not display on the rota. Typically, this would be Head Office/field-based members of staff. This article shows how to assign these employees to a Location rota so that their Health Statuses can be seen.
Rota Administration
Go to Rotas module > Rotas> View Rotas > Search and select the relevant rota
Select the relevant rota

Fig.1 – Searching for and selecting a rota
Check to see if the required employee(s) appear in the Location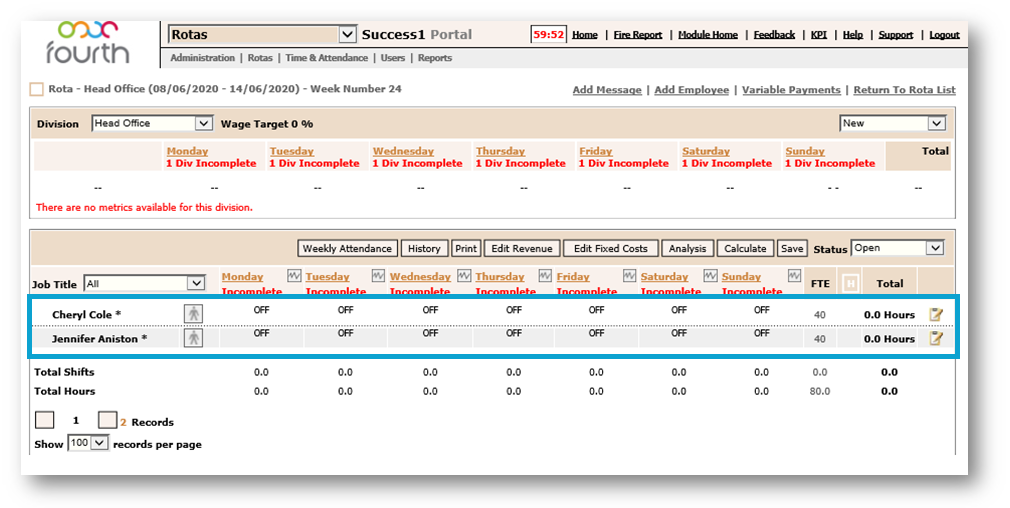 Fig.2 – Viewing a rota for a Location
If some or all employees do not appear, the first thing to check is the Job Title Settings for the missing employees.
Go to HR module > Company Admin > Job Titles
Select the Job Title that the missing employee(s) belong to
The setting Include Salaried Employees in Rota must be set to Yes or Either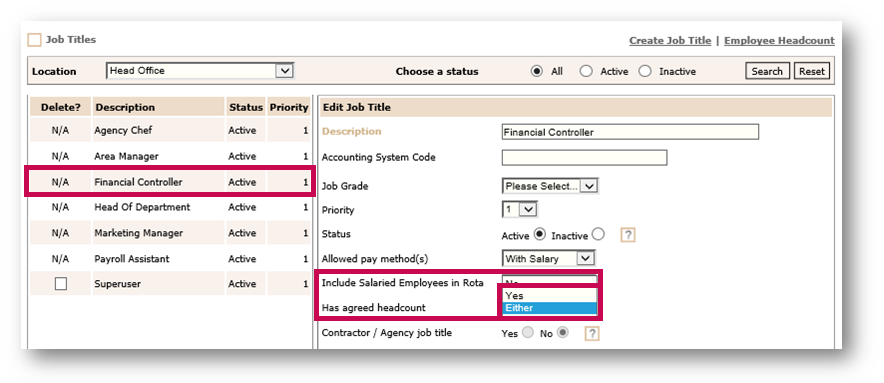 Fig.3 - Include Salaried Employees in Rota set to Yes or Either
If this setting is set to Either, the Is Employee Included In Rota setting must be set to Yes in the employee's record.
Go to HR module > Employees > Employee List > search for and select the Employee
Then go to Employee Info > Employment Details
Select Yes against Is Employee Included in Rota?
Save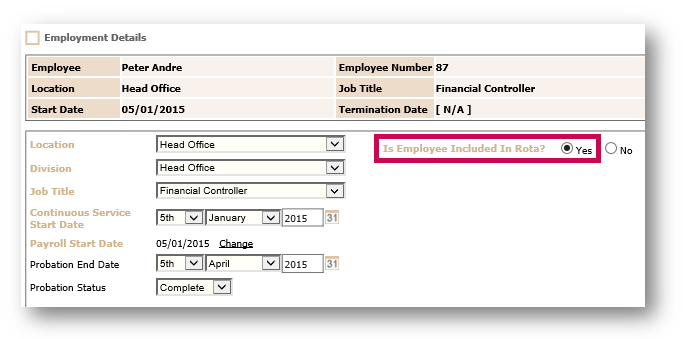 Fig.4 – Is Employee Included in Rota? – set to Yes
Once these settings are applied, the employee(s) will appear on the rota.

Customers viewing the Health Status in the rota for teams/employees that usually would not be scheduled, e.g. Head Office or Field based teams, should take care when granting access to view the rota to ensure salaries/pay are not exposed to people who should not see them.
Global, Division, and Organisation settings as well as permission templates in the Access Level Hierarchy should be reviewed:
Go to Rotas Module > Administration > Configure Division and select the required Division from the drop-down at the top of the page
The setting Display Revenue/Wage Cost Section on Rota?should be set to No
If this needs to be changed, select Edit Division Settings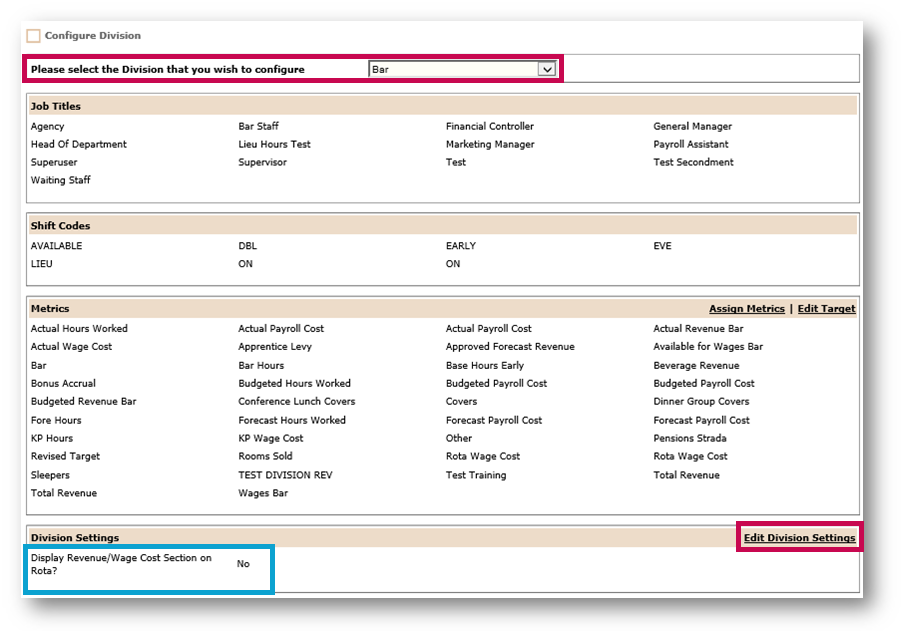 Fig.5 – Edit Division Settings
To check permissions, go to HR module > Company Admin > Access Level Hierarchy
Select the required Hierarchy and Level
In the 'Rotas Module' section, select the required Access Level and then Edit
Scroll down to the 'Other' section and for the View Summary setting, select either:

With Subordinates Currency to ensure people can only see salaries for employees on an access level below them
No Access

to not see salaries at all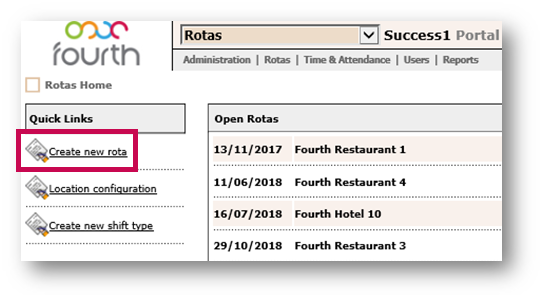 Fig.6 – View Summary settings
Then go to Rotas module > Administration > Configure Locations > select Location
Scroll down to 'Job Titles With Salary Included in Rota' and select Edit Job Title Salary
Then untick any job title where that person's salary should not be included in the rota or wage cost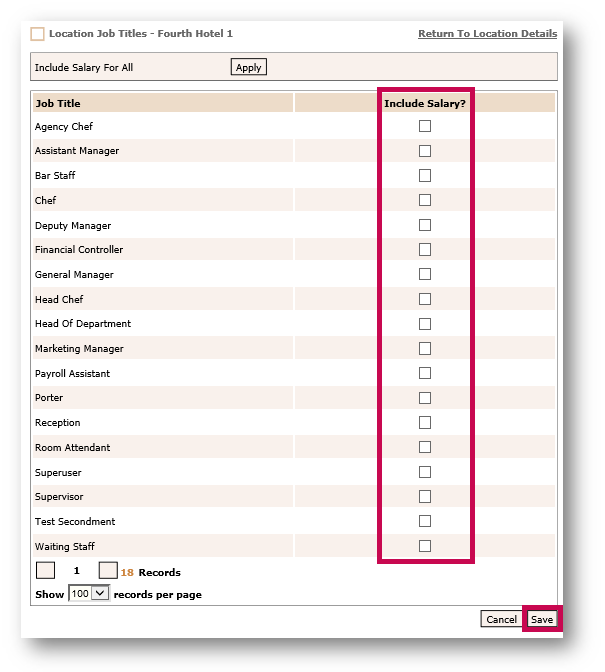 Fig.7 - Unticking job titles
For customers using Labour Productivity/Advanced Schedules, the following settings need to be checked:
Hide costs for this area on Schedule page (Settings > Admin Configuration > Areas)
View Schedule by Budget Widget (Settings > Organisations > Edit)
Show Fixed Costs On Schedule Page (Settings > Organisations > Edit)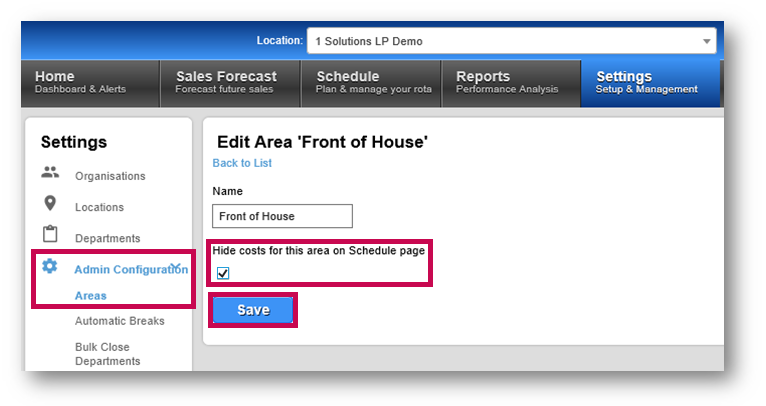 Fig.8 - Hide costs for this area on Schedule page in Labour Productivity

Please note: This will differ for LP standalone customers who are integrated to 3rd party HR.


Creating a Rota
If, when checking the rotas there is no rota present, one can be created.
Go to Rotas module > Rotas > View Rotas > Create A New Rota
Rotas can also be created from the module home page – see the Create new rota button in Fig.9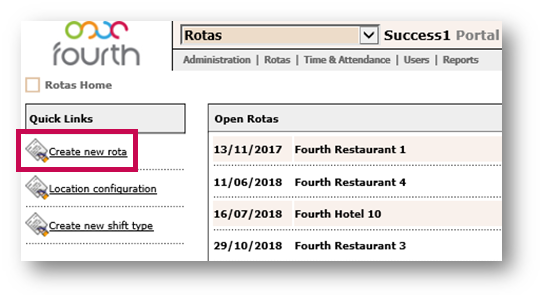 Fig.9 – Create new rota button on the Rotas home page