Overview
The Health Survey app provides a simple tool to help Fourth's customers ensure that their shifts are staffed with healthy employees, reducing the risk of COVID-19 infection amongst their workforce and customers. Basic health information from employees is recorded and summarised to simple statuses, which helps managers to assess if they are safe to carry out their shifts or not.
Please note: The app is designed to be used alongside existing absence/sickness policies, which still need to be followed.
This article provides instructions for how to use the app - from the end user's point of view.
Using the Health Survey
Log in to the Fourth app/Fourth Engage (will sometimes be named/branded to a specific organisation)
Select COVID Health Survey from the left-side menu, or from the All Applications area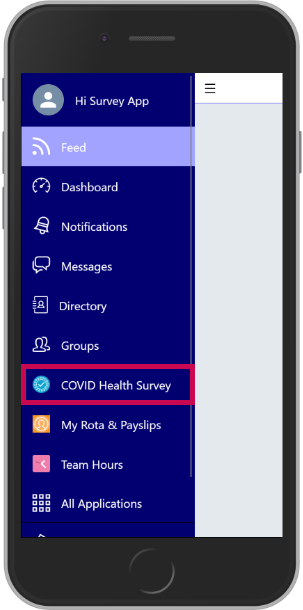 Fig.1 - Opening the COVID Health Survey
When opening the app for the first time, a welcome page will display. This explains what the app is for, who will see the answers given, and what to do if the user has any questions.
To proceed with using the app, select I AGREE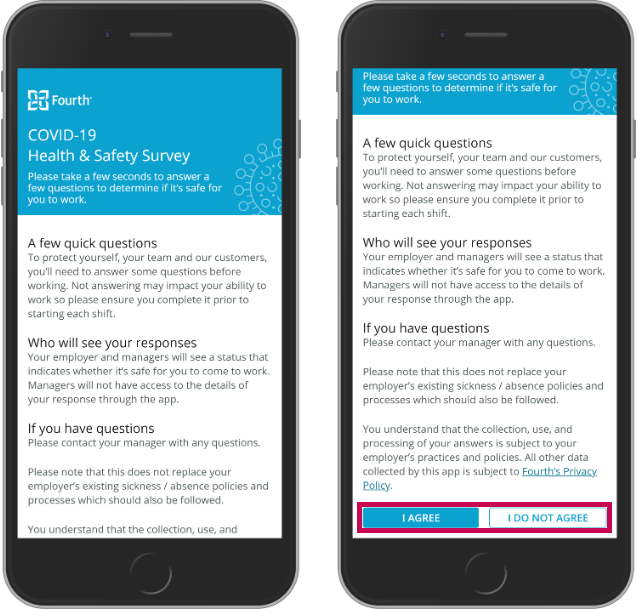 Fig.2 - Welcome page
If I DO NOT AGREE is selected, the app will close.
Three Questions
The health survey consists of three questions, each with a simple 'Yes' or 'No' answer.
For each question select either Yes or No accordingly, followed by NEXT
To revisit a question and change the answer, select PREVIOUS
After answering the 3rd question, select COMPLETE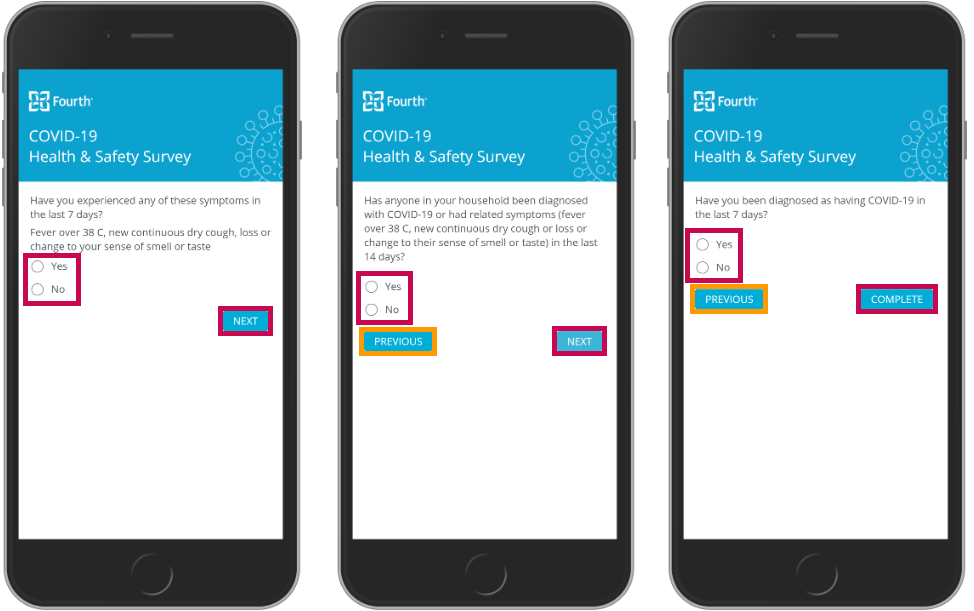 Fig.3 - The three health survey questions
A confirmation page will then appear, with some additional health and safety information (advice on hand washing, social distancing, cleaning surfaces, etc).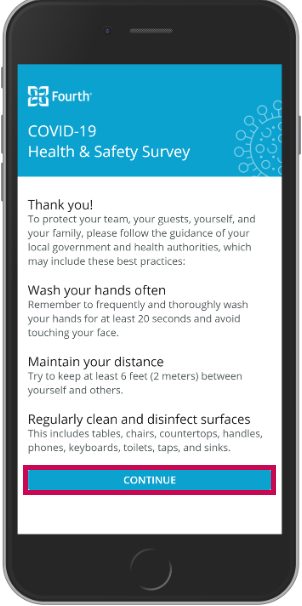 Fig.4 - Final page
The app will then close and return the user to the Fourth app.
The answers provided will be used to generate an 'Employee Health Status', which managers will be able to see in their relevant Fourth Workforce Management solution. Managers will not see the specific answers given in the survey, only the overriding Health Status which is then used to determine if an employee is considered/not considered safe to work.