How to Create Training Courses for Employees
Log into Fourth's People & Payroll solution, and from the drop down menu select the 'HR' module.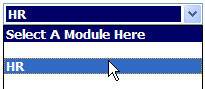 Fig. 1 - Module drop down
To create a training course under a specific employee's HR file e.g. when they have attended / or are going to attend a course first find the specific employee on the system. Select 'Employee List' from the 'Employees' drop down or use the 'View all Employees' quick link from the HR homepage:


Fig. 2 - Employee drop down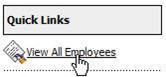 Fig. 3 - Quick links
Search for the employee who is required to attend the training course:

Fig. 4 - Employee list
When the list of employees appears select the relevant employee's row from the list by clicking on it:

Fig. 5 - Employee example
This will take you into the HR summary for the employee: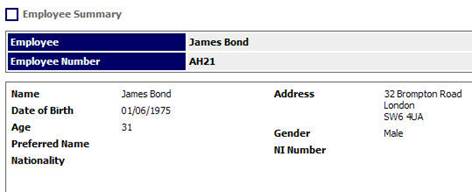 Fig. 6 - Employee summary
From here select the 'Employee HR Info' drop down, and click on 'Training Courses'.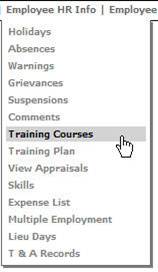 Fig. 7 - Employee HR info drop down
Here will be a list of any training courses the employee has already attended.

Fig. 8 - Training attendance
To create a new course click on the link:

Fig. 9 - Create a training course link
Select the relevant 'Training Area' from the drop down and enter the date the course was attended / due to attend.
Enter the relevant provider of the course e.g. internal.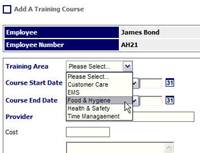 Fig. 10 - Add a training course window
All the bold fields are mandatory when adding a training course to an employee.

If the course has an expiry date for example: First Aid courses that need to be refreshed each year, then enter the expiry date and click save.

Fig. 11 - Expiry date
The training course will now appear in the list for that employee:

Fig. 12 - Training course in employee record
NB: Please note there is a report which can be used to search for employee's whose training has expired. From the HR module select 'Reports' > 'View Reports' > 'Employee Training'.

Fig. 13 - Employee training report