Overview


Vacancies can be opened within the Applicant Tracking System (ATS) at any time and can be pushed to other job boards if required and if an integration is set up. This article describes the process of creating a vacancy within ATS.
Accessing the Vacancy Page

All current and closed vacancies can be reviewed and edited from the Vacancy page.
To access the Vacancy page, select Vacancies in the ATS drop-down menu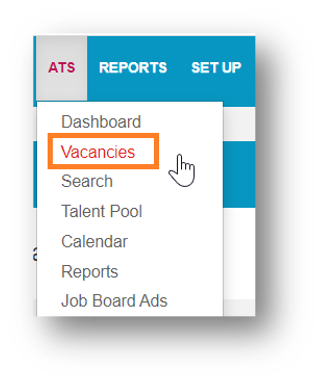 Fig.1 – Vacancies in ATS Drop-Down Menu
To edit vacancies, select the required

Vacancy

and then the

Cog

icon (see

Fig.2

)

Fig.2 – Cog Icon
The 'Vacancy Detail' page will then display, changes can be made and saved within this page.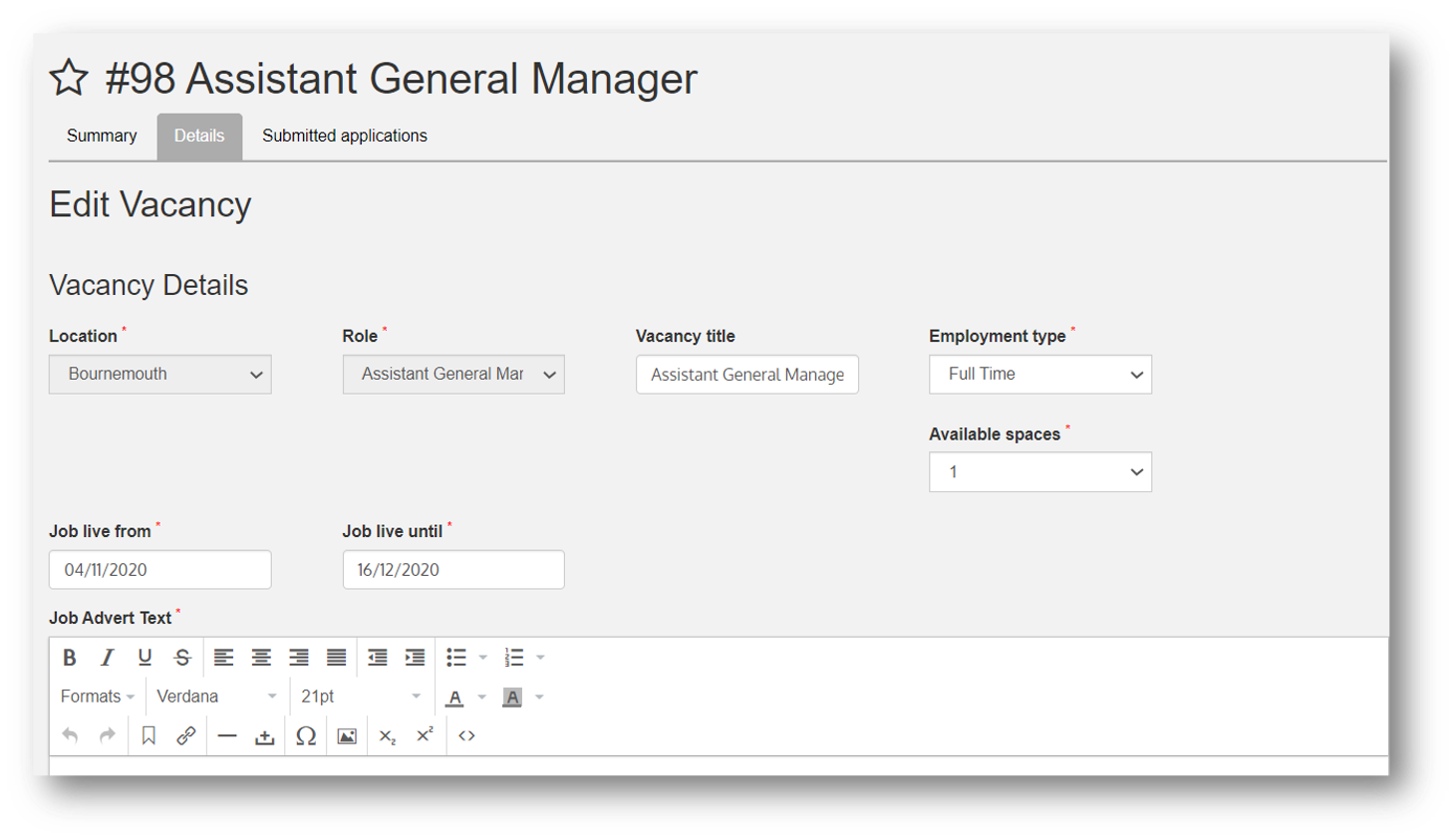 Fig.3 – Edit Vacancy Fields
To close a vacancy with immediate effect, select Close Vacancy

Closing a vacancy does not regret current candidates associated with the particular vacancy, but it removes the vacancy from the ATS and therefore stops new candidates from applying.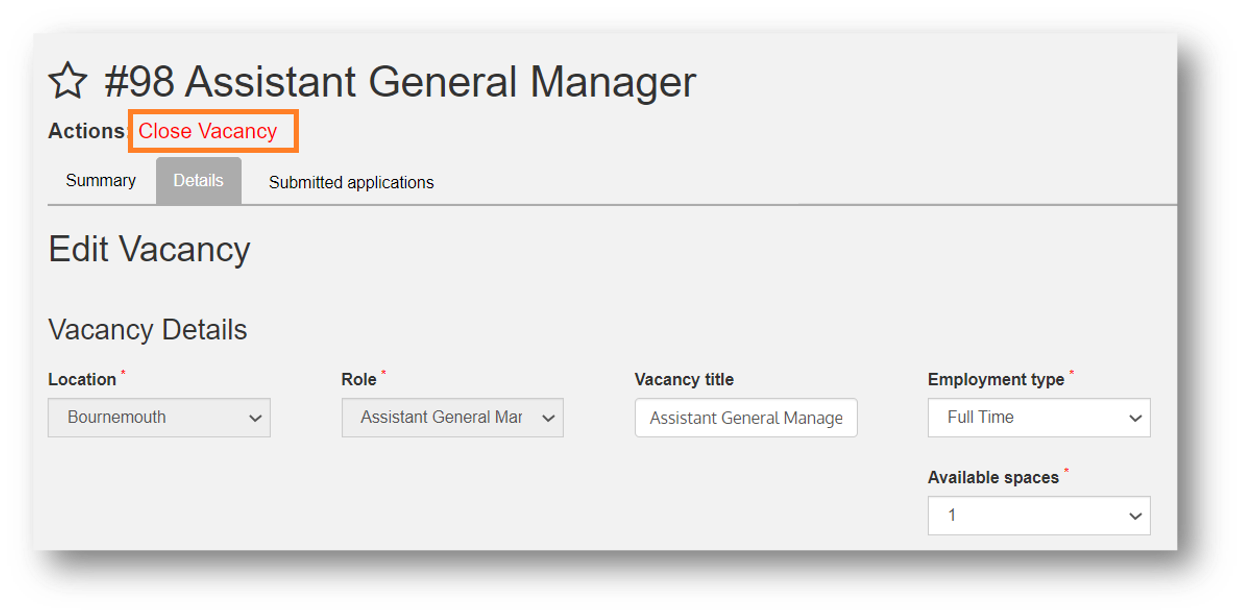 Fig.4 – Closing a Vacancy

Creating a Vacancy
To create a vacancy, select the + icon on the Vacancy home page


Fig.5 – Plus Icon
A new window opens where vacancy details can be confirmed.

Please Note: All fields with a red asterisk are mandatory.
Location – Depending on user permissions, multiple locations may be available
Role – Multiple vacancies for the same role cannot be opened

For example, if a vacancy for a Chef is already open, the 'Chef' vacancy will not be available in the Role drop-down list and needs to be closed and all associated candidates need to be regretted first. Only then can a new vacancy for the Chef role be created
The role selected will auto-populate the Job Advert in the Description field

Vacancy title – Depending on user permissions, this can be edited if required
Employment type – Employment types can include full time, part-time, casual, and flexible depending on the company setup
Available spaces – This allows the manager to specify how many new recruits are needed for the selected vacancy. Available space will not stop the hiring manager from hiring more or fewer candidates for the selected vacancy it is a visual field to support the recruitment process.
Job live from – Select a date. It can be in the future if required but defaults to today's date

Job live until – Select a date. Only dates 28 days into the future can be selected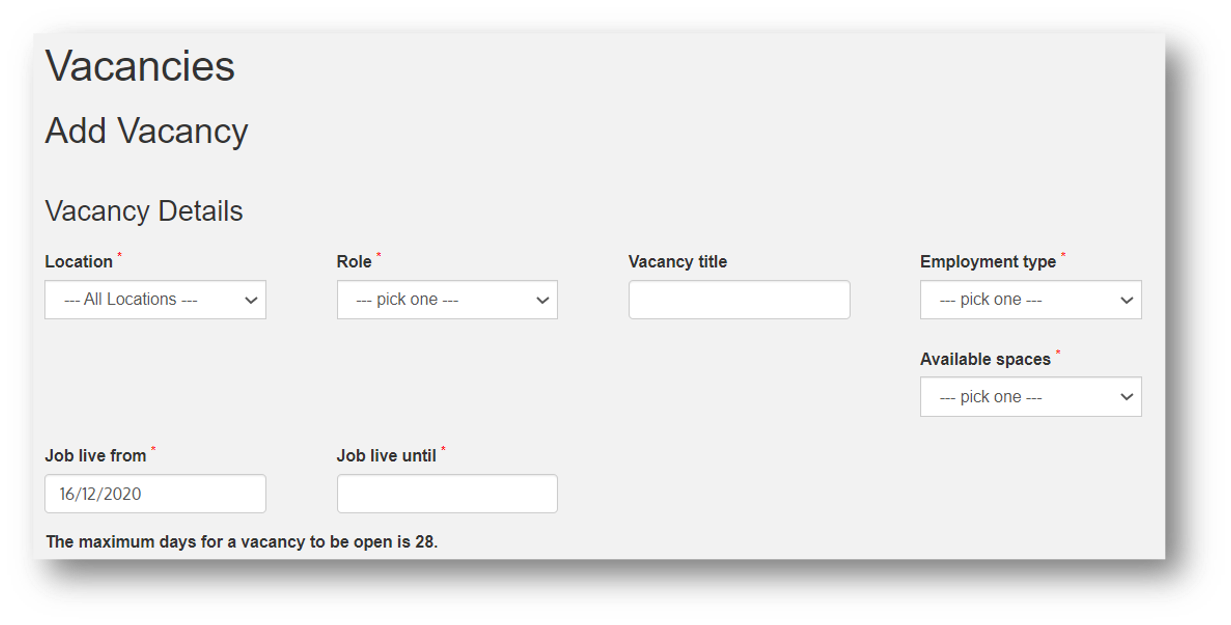 Fig.6 – Vacancy Details
Once a location and a role have been selected the job advert auto-populates. Depending on permissions, the Job Advert detail can be edited.
Salary details are auto-populated and can be edited depending on permissions. Multiple options are available: Competitive, Single Value, or Range

The

content of the

Salary Depends On and Package Includes fields are company-specific

and may or may not be selected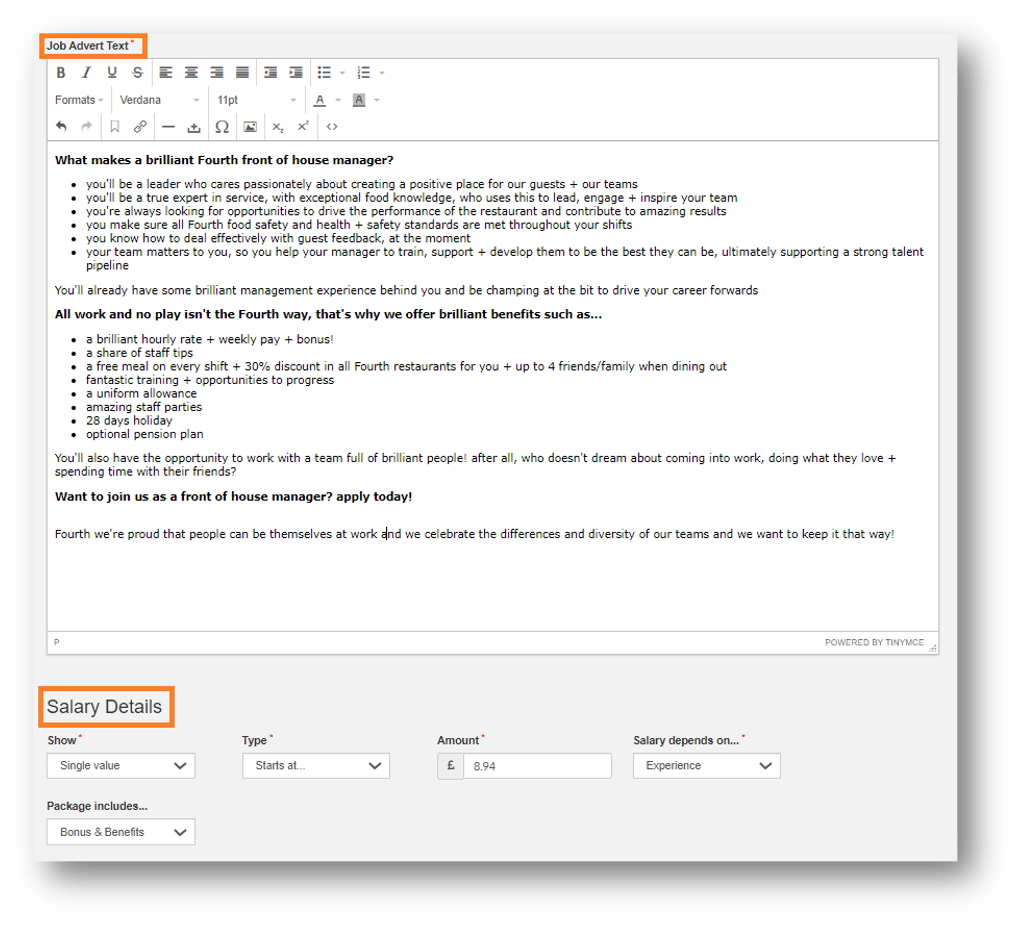 Fig.7 – Job Advert Details
Job Boards Section
Depending on permissions and the company's setup, vacancies are published automatically to job boards or can be published manually.
To manually publish a vacancy to a job board, select the relevant Job Board after the vacancy has been created

Fig.8 – Job Boards Option
Please note: certain job boards may require approval from the Recruitment Team / Head Office. The vacancy is only published on the job board once approved.
Once all details are confirmed, select Save
The Vacancy Summary page displays once a vacancy has been created and saved in edit mode.
Summary – Summari

s

es the vacancy details
Details –

Displays

the Vacancy Details screen

and allows for editing

Status History - Displays the status history of the vacancy (created, re-opened), a time stamp, and the user associated with the vacancy status.
Submitted

a

pplications – All related applications are displayed here

Fig.9 – Vacancy Summary Page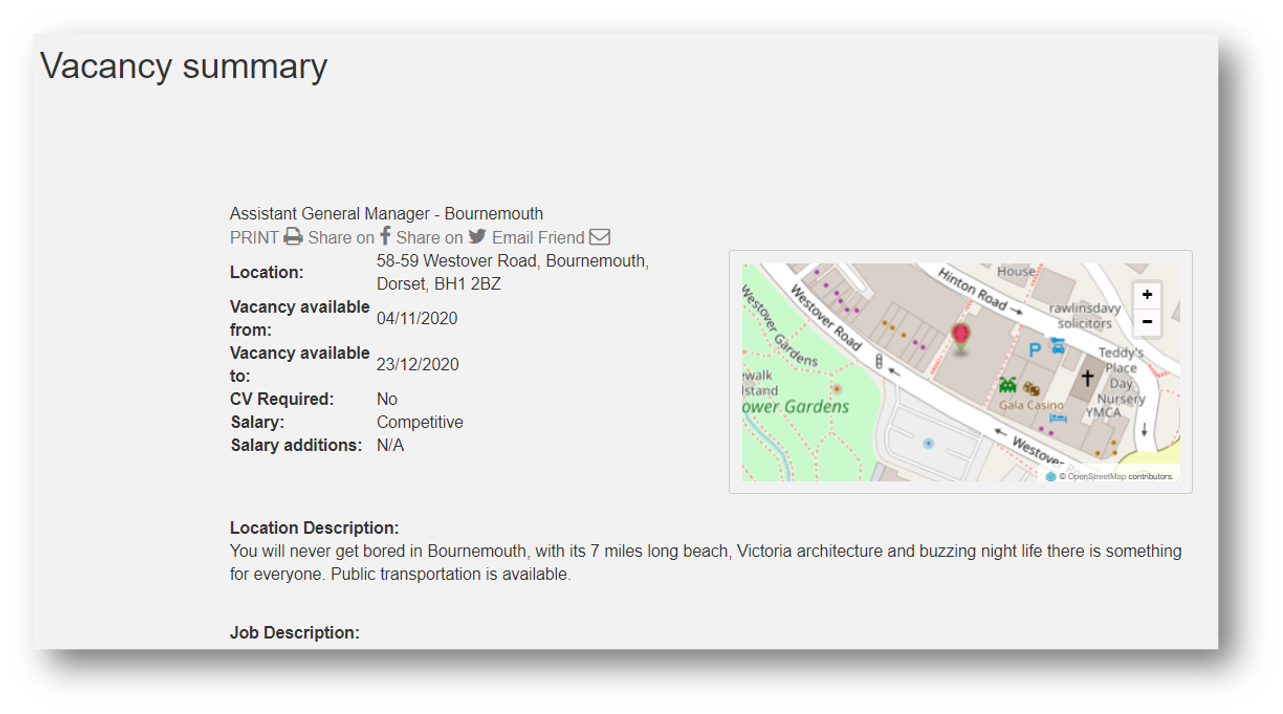 Fig.10 – Expanded Vacancy Summary Page