After a Labor Budget has been created and posted, there are some reporting options available in HotSchedules that will facilitate the maintenance and review of this budget for the week.
Labor Budget Report - This report can be generated and printed as a hard copy of your labor budget. This is a comparison of your labor as a percentage of sales.
Log into your HotSchedules account and navigate to the Reporting tab.
You can search for the name of the report in the search box, or you can select the Labor Analysis subtab and then select the Labor Budget Report.
Once you have selected the report, use the calendar menu option at the top of the page to select the week you would like to view data for.
You can also configure the report details to display the required information.
For example, you can you choose the format that the report should generate with, whether it should show actual or scheduled data, or the job codes it should display data for.
After you have made you selections, you can select the Generate Report or Print Report buttons at the top of the screen.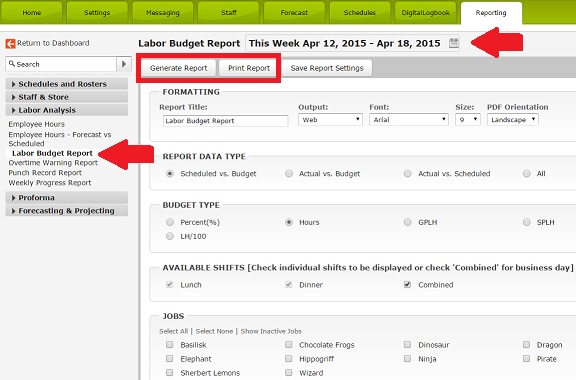 Budget Comparison Tool in the Scheduler - If you have posted a labor budget, then you will be able to use this tool in the scheduler to compare your scheduled shifts to the budget.
Log into your HotSchedules account and navigate to the Schedules tab.
Go into the schedule that you would like to work on.
On the left side of the screen in the scheduler, you will see the Toolbar Functions menu.
Select the Go button for the Budget Comparison tool. It can be found under the Statistics section of the Toolbar Functions menu.
This will bring up a chart that compares what labor you have scheduled to your labor budget. You will be able to compare by labor percent, labor hours, labor dollars, or labor SPLH (Sales per Labor Hour).
NOTE: If no data appears, please check that you budget for the week is posted and you have projected sales displaying in the Labor Proforma - by Percent report.