Above Store Console users are able to post surveys for their staff to take when they access their HotSchedules accounts. Surveys show up as a preload when users next log into HotSchedules.
Sample Survey:
Follow these steps to create a new survey:
Log into a HotSchedules account with Above Store Console access.
Hover the mouse over the Communication tab at the top of the page, and then the Surveys tab. Select Create/Edit.

Select the orange Add New button on the right-hand side of the next screen.
Under Survey Setup, fill out a Name for the survey. you can also add a description and anything else that will help clarify things for your staff.
You can add as many questions as you want by clicking Add Question each time.

After you have typed out your question, select Add Option to add an answer choice. Repeat the process to add all options.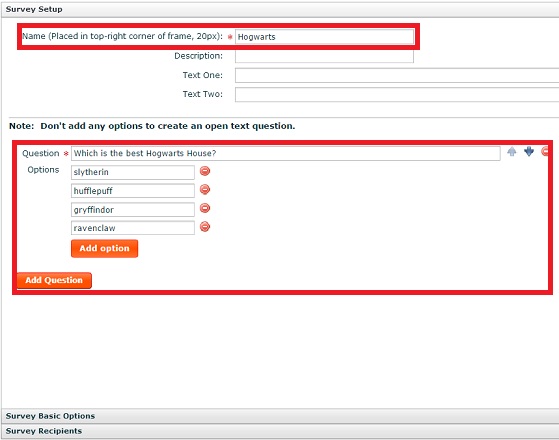 Under the Survey Basic Options section, select the date range for how long you want the survey to display to users.

Under the Survey Recipients section, you can select who will receive the survey upon logging in.

Store allows you to specify entire stores who will see the survey.
Job or Schedule allow you to only show this survey to users with those jobs or schedules.
Permission allows you to specify a specific permission as a qualifier for seeing the survey. (Ex. Anyone with access to post schedules).

Once done configuring the survey, you can select Save if you want to publish the survey later, or Publish if you want it to immediately take effect.
To view the results of your surveys, simply click the Show Results button next to the survey you want the results for on your list of surveys

The other two icons on this page allow you to create a new survey based on an existing one (icon shaped like two pieces of paper), or force expire a survey before its set time (red icon).
ASC - Surveys