Overview
Fourth is building a dedicated environment for labour demand metric modelling. This will allow customers to make labour demand metric adjustments including fixed tasks, minimum staffing, and workload rule metric changes (variable rule changes will be made by Fourth's Productivity Consultancy Team) without impacting live data on their portal.
Current productivity calculations within the portal are updated on a schedule, recalculating every 6 hours. A test environment enables customers to validate workload rule changes immediately before applying them to live production. This makes it possible to see the impact such changes will have across their organisation, increasing the accuracy and efficiency of their labour productivity metrics.
Closed Beta

This article is currently intended for all customers currently participating in the closed beta program for this feature.
Testing Environment
In the labour productivity testing environment, customers will have access to a copy of their production data. This will be an exact replica of all existing workload labour demand metrics that are configured at the time of the copy.
End users can recalculate productivity against adjusted metrics, historical actual sales, or future forecasted sales. Customers can provide future-forecasted sales which can be processed through the Fourths distribution engine and loaded into the system - only the testing environment, not live.
Productivity Calculation
The new productivity calculation service will be accessible through the Scheduling UI and allows users to schedule a productivity workload export. It will contain the following data and can be downloaded from the new productivity calculation page​
Location Id & Name​

Department Id & Name​

Date​

Correct / Over / Under Hours
The export will be generated offline and will take a number of minutes/hours to generate, depending on the number of Locations and weeks the file is generated for.
Go to Reports > Run Productivity Calculation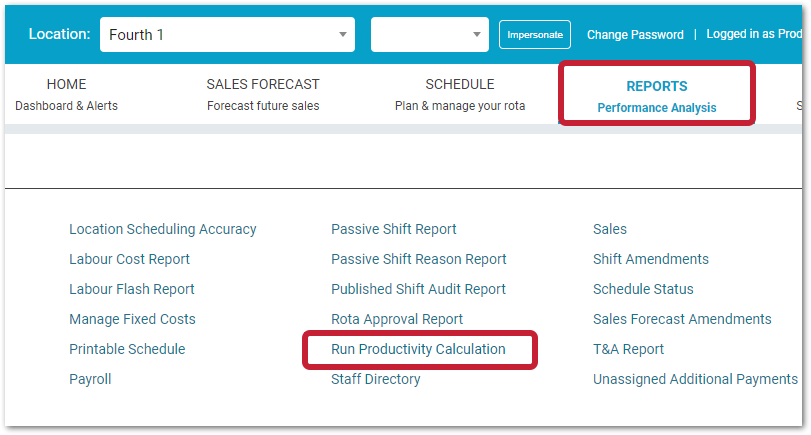 Fig.1 - Reports > Run Productivity Calculation
Select Create New at the top of the page
Using the From and To Date fields, select a period no longer than 53 weeks

Select the

Location(s)

to run the export for, or use

All Locations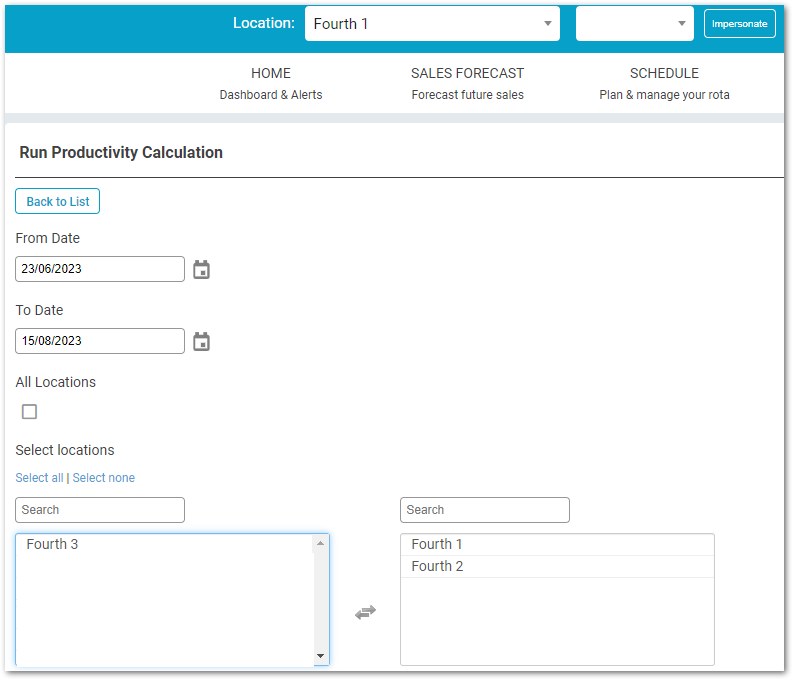 Fig.2 - Selecting dates and Locations
The report will run in the background and once complete will be available for download as a CSV file for a period of 7 days. After that, the link will expire.


Fig.3 - Export completed and downloadable file available for 7 days