"Great Idea! This new feature was originally raised as an Idea in our Customer Community. The suggestion helped our teams to design and release the enhancement which is now available to everyone.
Why not share your inspirational ideas (or vote on someone else's) today!
Delete a User from Multiple Properties
It is now possible to delete a user from multiple Adaco properties without having to log into each property separately
Release date: May 16th (EMEA & APAC) and 18th (US) 2023
Enabled by Default? - Yes

Set up by customer Admin? - No

Enable via Support ticket? - No

Affects configuration or data? - No

Roles Affected: - Adaco administrators who are able to delete Adaco users
What's Changing?
When deleting an Adaco user from a property, it will now be possible to delete them from multiple properties all at once.
Reason for the Change
Removes the need to log into multiple Adaco properties to delete the same user.
Customers Affected
All Adaco customers.
Release Note Info/Steps
From within any property, go to Property > User Center
Right-click on the user and select Delete User
If the selected user exists in multiple properties, a form will display - see Fig.1
On the left side, choose the properties from where to delete the user and use the arrow buttons to select them
If the user is active in any approval routes to which documents have been submitted or is the owner of any templates, this will be shown in the 'Approvals' and 'Templates' columns (Fig.1).
These active approvals and templates must be reassigned to another user in the same property with the same approval rights before the user can be deleted.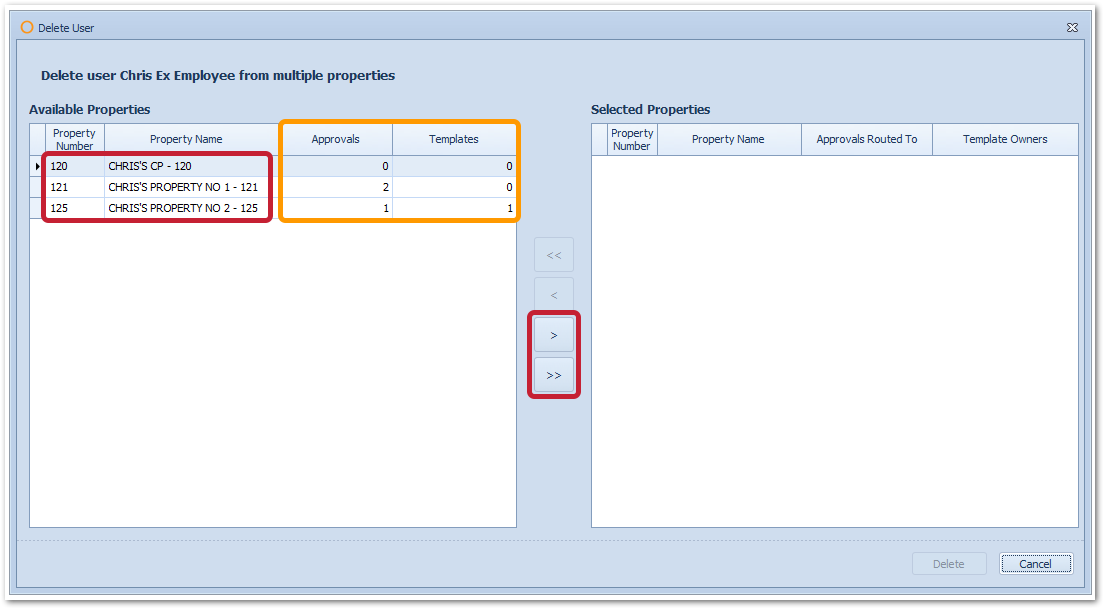 Fig.1 - 'Delete User' window, selecting properties, 'Approvals' and 'Templates' columns
After using the arrow buttons, a 'Reroute Approvals' pop-up will appear for any active approval routes for that user - see Fig.2.
Choose an alternative user from the Reroute to user drop-down and select OK

Repeat as necessary for other properties - the same pop-up will reappear until they are all completed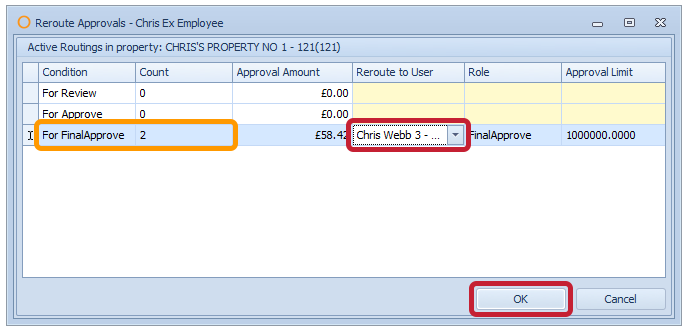 Fig.2 - Reassigning active approvals
Then, any templates belonging to the selected user need to be reassigned.
In the pop-up that appears select the Full Name of the required user - see Fig.3

If any reassignments are cancelled/not completed, that property will not be selected and the user will remain there.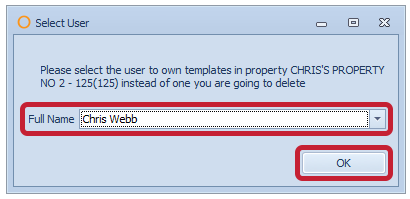 Fig.3 - Reassigning template ownership
Once all active approvals and templates have been reassigned, select Delete from the main 'Delete User' window
Confirm the deletion - select Yes


Fig. 4 - Confirming the deletion of a user in multiple properties
The user will then be deleted from all selected properties.