Implementation Overview
Workforce Management: Classic: Recommended Services
Modules Included:
Scheduling

Messaging

Reporting

Task Management
What you need to know about the implementation process:
Initial discovery information will be gathered by your administrator(s) via the WFM Classic Package Form. Email and/or phone will be used to support questions and or discussions necessary to complete the configuration of your site(s) based on your completed form.
Below is an example of a typical timeline for this type of project with major milestones. A project can be affected by variables that will impact overall timelines. We will always work in collaboration with our customers to achieve a solution deployment based on key milestones to ensure maximized ROI as soon as possible.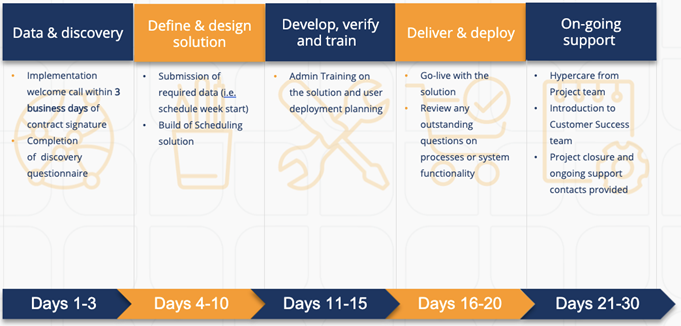 Implementation services include:
Resources - Data collection resource, Implementation Consultant(s)

Project Governance - Configuration form, configuration working sessions

Training & Deployment - Administrator training, 1x above store leadership training (1 series), 2x scheduling manager training (1 series)
Training:
Training on your new Fourth Workforce Management tools will be a combination of virtual self-guided learning and live training via webinars with your dedicated consultant. The training content and cadence can be found here: Classic Recommended WFM Training.
Before your live training, you will receive access to your digital learning courses. It is important that you complete each self-guided digital learning segment before attending the coupled live call with your dedicated implementation contact.
Following each training call you will be tasked with applying your learnings, to complete set-up/tasks you were just trained on. Each session will build on the knowledge and accomplishments from the previous session.
Your dedicated consultant(s) will be available to you throughout the training via email and phone. At the conclusion of your training/implementation period, your long-term support will be managed by our wonderful Fourth Support team. For more information on post-implementation support, please review our Customer Handbook and explore our informative Customer Success Portal.