Overview
MacromatiX Mobile Ordering makes ordering stock quick, easy and accurate. The Mobile Ordering module will guide a restaurant manager through creating, placing & receiving orders, all on a mobile device, or on a back office PC with a modern display for ease of navigation.
A winning feature of MacromatiX Ordering is the powerful forecast tool that populates the item quantities that need to be ordered, based on your forecasted sales - it will take the guess work out of ordering and reduce the chance of having too little or not enough stock on hand.
MX Mobile Orders is a powerful module that can be configured to suit your brands needs. MacromatiX can schedule an orders to appear on set days or a particular date, or they can be manually created by a manager. MacromatiX Mobile Ordering can also support vendor integration making ordering seamless for the manager! Overall, MX Mobile Ordering is a full ordering solution that gives a manager control, transparency and power, all in their hand on a mobile device.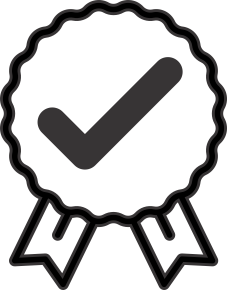 Best practices for Ordering are as follows:
Use the forecasted quantities populated by MX forecast for ordering

All orders must be placed or recorded in MX to show accurate inventory levels
Navigation
Log into the MacromatiX Mobile site directly on a mobile device and from the Menu select

Inventory Order

(Fig.1)
Select Place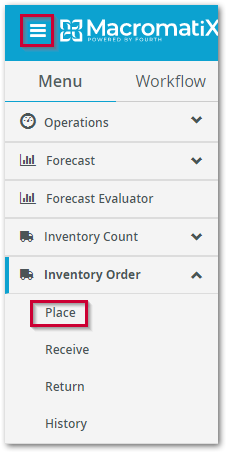 Fig 1. Navigation to Place an Order
Placing a Scheduled Order
Select the Scheduled tab form the top left of the page (Fig.2) If there is an order scheduled to be placed today, it will appear on this page.


Fig 2. Scheduled Order tab

By using the date selector arrows, or selecting the date display, you can review the dates that have a Scheduled Order to process as there may not be an order scheduled to process every day. (Fig.3)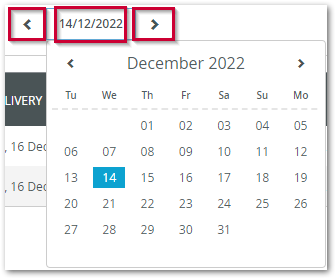 Fig 3. Date selector options
Schedule Order Overview
When reviewing the scheduled order, the below columns will appear:
Supplier

The name of the supplier/vendor for the order

Delivery

Date

The date the order is due to be delivered

Cutoff

The date and time deadline that the order must be placed in MX by a manager. This time can be set by a supplier or by Head Office. If the order is not in by this time, it will be unable to placed in MX and it's status will show as Past Cutoff
Status

The current progress of the order will show as Pending, Placed or Past Cutoff

Select this option if the order does not need to be placed

Select this option to place the order
On the Orders page, review the quantities that Macromatix is suggesting you will need to order for each item. The quantities are based on your forecasted sales, current stock levels and current on-order quantities.
If required, edit the quantity for each item by entering or editing the amount in the quantity field. (Fig.4)
Fig 4. Edit item quantity
If you select an item, it will shade blue and the item details panel on the right will update with information about the item. (Fig.5)
Fig 5. Item details
If items quantities are increased or decreased by a manager, the order totals will update instantly and display in panel that runs horizontal on the Order page. (Fig.6)

Fig 6. Order totals
Search and Display options
There are drop-down display options that allow a manager to filter the items displayed on the order page.
Enter an item name in the search field and as you type it will filter the items that contain the item name for this supplier and display them in the items panel (Fig.7)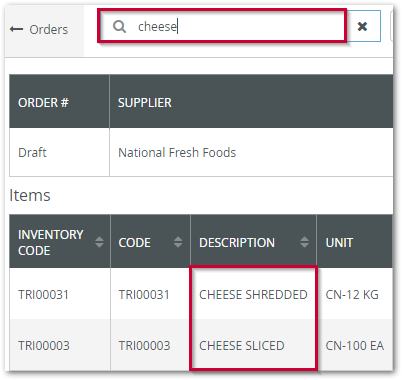 Fig 7. Order totals
Select the ALL ITEMS drop-down choose between the 3 options to filter the items displayed (Fig.8)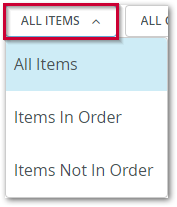 Fig 8. Display items options
Select the ALL CATEGORIES drop-down choose between the available category options to filter the items displayed (Fig.9)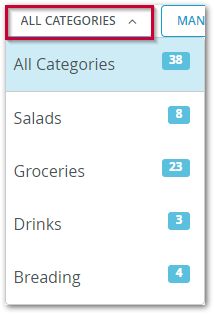 Fig 9. Display items by categories
Select ACTIONS and choose from one of the follow options:
| | |
| --- | --- |
| | Select Reset Order Qty and all item quantities will be reset to 0. |
| | Select Submit and the order will be submitted. A confirmation pop-up will appear asking you to confirm you want to submit the order. |
| | Select Save and all entered quantities will be saved. Any user that returns to the order will see these saved quantities displayed. |
| | Select Delete and the order will be deleted. A confirmation pop-up will appear asking you to confirm you want to delete the order. |
If the order is deleted, saved or submitted a green confirmation box will appear confirming the action.
Related Articles
Take a look at our other articles for MacromatiX Mobile Inventory
MacromatiX: Mobile Travel Path - Manage Items
MacromatiX: Mobile Waste - Recording Waste
MacromatiX: Mobile Transfers - Approving Transfers
Printable Guides
Coming soon.
Training
Talk to your MacromatiX account manager or send us an email if you are interested in learning more about our MX Masterclass sessions for Restaurant Users, Area Managers, Franchisee's or Head Office Administrators.