Overview
The Wagestream app lets employees 'stream' a percentage of the money they've already earned straight into their bank accounts, before pay day, putting them in control of how and when they get paid. The app can be accessed directly from the Fourth platform, and this article explains how it works.
Please see the article - Wagestream - Enrolling with Wagestream - for details on how to download and enrol with Fourth Wagestream.
Accessing Fourth Wagestream
Log in to the Fourth app using 'Single Sign On' credentials - this needs to be on the same mobile device where the Wagestream app is already installed
Within the Fourth app, go to All Applications (on the left side menu) and select Wagestream
Then select Open Wagestream - which will open the app in a new screen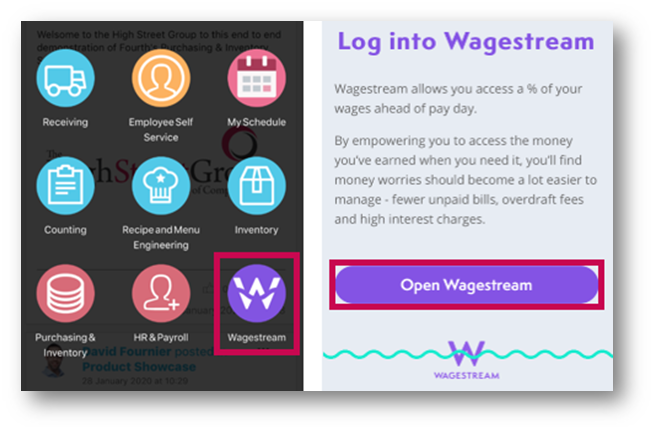 Fig.1 - Accessing Wagestream from the Fourth app
How to 'Stream' Wages
The main page of the Wagestream app shows the available earnings - this is how much money is available to transfer, or 'stream'.
The available earnings are calculated from the days and hours that have been worked already in the pay period, and the percentage that the employer has chosen to use - for example, 40% of earnings already in the current pay period.
To transfer funds, use the slider to choose the amount and then select transfer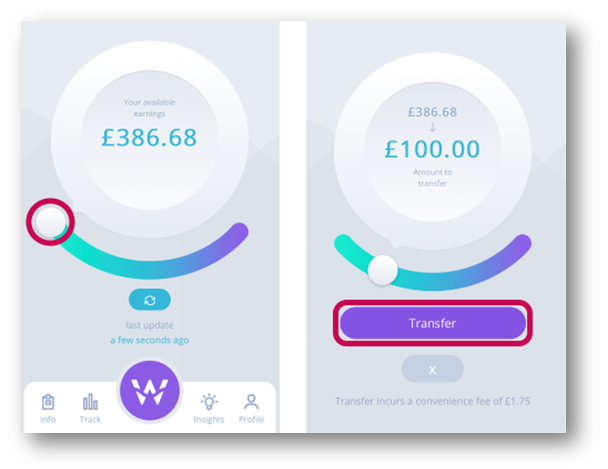 Fig.2 - Transferring funds
This will then send the money into the employee's bank account using a Faster Payment Service.
Please note: This will incur a £1.75 fee for the faster payments service used.
How to use the 'Track' Feature
From the bottom of the main home screen, select Track
This shows the position of the current pay period, when the next pay day is, what has been earned already, and how much money is available to 'stream'.
The 'Track' screen also shows the shifts data that has been received from the scheduling in Fourth, so hours and days worked can be cross-checked.

Please note: For salaried employees, this will show the same daily amount. Hourly paid employees will see their confirmed hours on each day they are scheduled.
Additional information
Wagestream allows the streaming of basic wages. Any additional payments such as tips or tronc will be received as normal on pay day

On pay day, employees will receive a Wagestream statement, as well as their usual Fourth payslip

Use the 'Self Controls' in the Wagestream app to set personal limits on streaming
For more information on Wagestream & Fourth, please visit - Wagestream - Article Contents Page