The Change
Development has been carried out which gives customers with the ability to choose Absence Types to be included in the flexible holiday calculation. This means that when an employee has had an absence with these absence type(s) in the past 52 weeks those absence days will be included in the holiday calculation and therefore impact the employee's holiday allowance.

Release Date: 15-Oct-2015

Reason for the Change
Currently, no Absence Days are included in the Flexible Holiday calculation which results in employees missing out on holiday allowance for Absences which customers may wish to allow employees to accrue holidays for. This is especially evident when employees take multiple or long term absences in a working week or over multiple weeks in past 52 weeks.

Currently, when an employee is absent for an entire rota week, the entire week will not be included and the system continues to find the actual weeks worked to calculate the holiday allowance. This may not be relevant to all Absence Types so we are providing the ability to choose which Absence Types to include.

Customers Affected
All People System customers.

Release Notes
To use this functionality you will need to tick the new Global Setting in the HR Module called Include absence days in holiday calculation for flexible staff which can be found by going to:

HR > Administration > Global Settings > Edit Default Holiday Settings > Holiday Calculations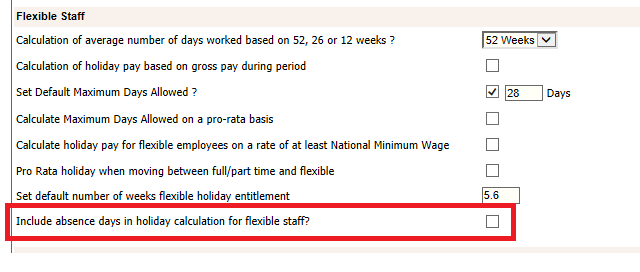 Fig 1 – New Global Setting
When ticking the Global setting a pop-up message will appear, informing of the impact of making these changes
Select OK after reading this message if you still wish to switch on this setting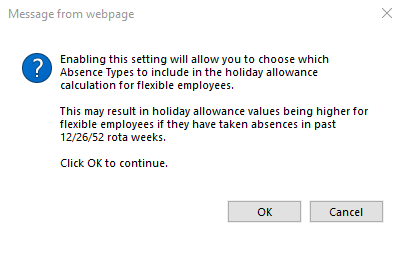 Fig 2 – Confirmation Message
Once the global setting is on, to set up which absence types to include in the flexible holiday calculation please go to: HR > Administration > Absence Types
Then click on the absence type you wish to include in the flexible holiday calculation and tick the setting 'Include in holiday allowance calculation?' and select Save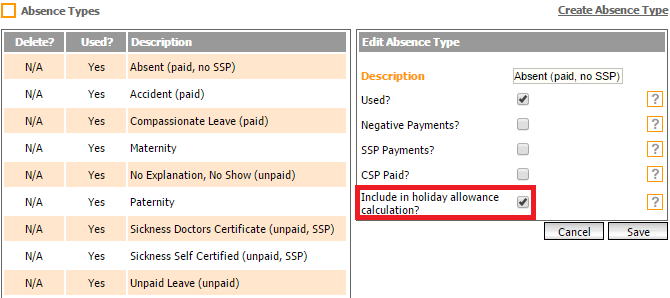 Fig 3 – New Absence Setting
Please note at this point that this may result in holiday allowance values being higher for flexible employees if they have taken absences with these absence type(s) in the last 52 weeks
Now the absence type(s) are set up, calculating flexible holidays absences with these absence types will be included in the calculation of the employees' holidays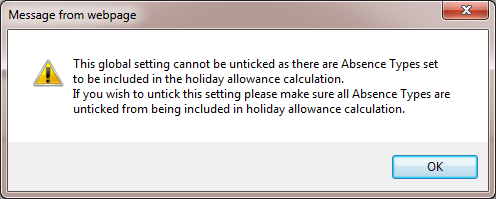 Fig 4 – Warning Message
If you wish to switch off this global setting at any point but still have Absence Types set to be included in the holiday allowance calculation then a pop up will appear to inform you that you will need to untick these absence types before the global setting can be unticked