The Change
Due to the recent changes to the rotas for the Abolition of Employer's NI for under 21's Fourth released changes to reflect this on the Rota Analysis Page. However, since this is change is only related to the UK, in order for this change to take effect all Locations within your Portal need to have their country setting set to UK.

On the 31st March Fourth will update all Locations to UK which do not have a country selected. Therefore if there are any non-UK locations please ensure these are updated in the location screen in HR (shown below) to the correct country. Fourth will then run an update to set all remaining Locations to UK at approximately 9am on the 31st March 2015.

Please note, if you have not set your non-UK locations country before then, it is still possible to do so after the update and change them from UK to the correct country.

Release Date: 31-Mar-2015

Reason for the Change
To enable the UK locations to show more accurate Employer's NI costs on the Rota Analysis page after the Abolition of Employer's NI for Under 21's which takes effect from 6th April 2015

Customers Affected
All People System customers.

Release Notes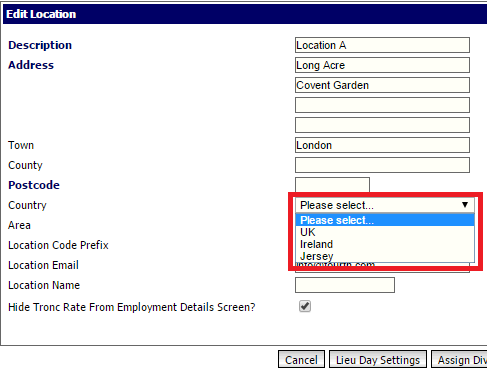 Fig 1 - Location Country Drop-down List
In order to update your Non-UK Locations please go to HR > Company Admin > Locations.
Then click on the Location and set the country.
You only need to do this for Non-UK locations. On the 31st March Fourth will update all remaining locations which are not set to UK.
Also See