Hotschedules Connect is a software installed on your main back office computer that allows HotSchedules to communicate with and pull data from your Point of Sale. This information can include sales, labor, and employee data. 
On occasion, you may find that data is not syncing on your HotSchedules site. An HS Connect Restart will stop and restart the services for the program. A restart will not sync data, for more information on how to manually sync data, go here. 
Follow these steps to run an HS Connect Restart:

On the desk top for your main back of house computer, there will be an icon labeled HS Connect Restart
To run a restart, double click this icon. 

After the restart begins, a loading bar will appear on your screen. This window will show the status of the restart. Once it has loaded all the way, the restart will be done. 

If you don't see the restarter icon on your desk top, open the start menu and select All Programs.

After opening all programs, find the folder titled HotSchedules. Opening this will display an option called HS Connect restart.
Selecting this option will run the HS Connect restart. 

When running a restart, you may get the following error: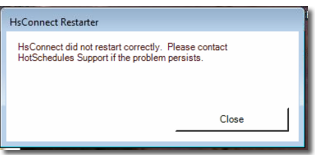 This error can occur for one of two reasons:
HS Connect is not working
You are not logged into an admin account on your back of house computer. 
You will always want to verify that you are logged into an admin account on your Point of Sale. Not being logged into an admin account can generate the HS restart error that you see above and prevent you from restarting HS Connect. For more information on how to verify if you are an admin user on your computer, go here.
If you have verified that you are an admin, and you continue to get a restarter error, contact customer care.