A Labor Budget is a customizable numerical chart in HotSchedules. It lists the job codes used on your site, and it is used to budget labor by days of the week. Whether you choose to budget by hours or by labor percent, you can create a default labor budget that can be copied from week to week. Once your labor budget has been created, you can use the budget comparison tool in the scheduler to compare it to your scheduled shifts.
After a Default Labor Budget is created, the budgets will remain the same each week unless it is modified or a Custom Labor Budget is applied to the week. See this article for detailed instructions on setting up your default labor budget. You default budget would reflect your normal or average estimates for labor. A Custom Labor Budget allows you to create a separate budget for special circumstances to apply to a specific week.
Note: When using the budget comparison tool in the scheduler, there must always be projected sales on your HotSchedules site so that your labor percentages have data to calculate against. This can be done by manually entering your projections for the week on the Labor Proforma II report or by saving your forecast on the Generate Forecast page.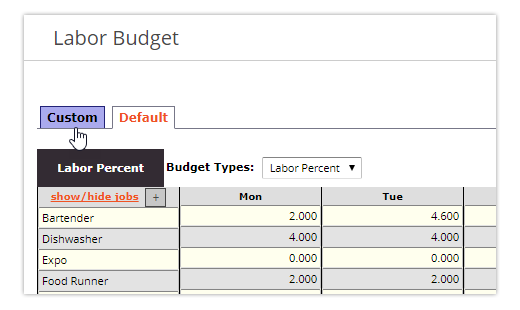 Follow these steps to create a custom labor budget:
Log into your HotSchedules account and navigate to the Forecasting tab.
Select the Labor Budget sublink.
This will generate the default labor budget chart.
Select the Custom tab to view the custom labor budget chart.
Use the Dates drop down menu to select the specific week you would like to create a budget for.
You have two options for creating a custom labor budget:

You can copy the data from your default labor budget as a starting point. Simply select the Copy from Default link. Once that data has been copied, you can make any necessary adjustments before posting the budget.
OR you can simply begin entering data into the custom labor budget chart.

Entering data into the custom labor budget is done in the same way that you filled out the default labor budget. Simply select the corresponding cell for the day and job code you wish to budget for and begin typing.
Remember to select the Post Budget button to save your changes.