We all know that special occassions can affect sales and labor, whether it's a holiday week that could mean less guests, or a special event that could mean more sales. For this reason, what is forecasted for your business may not always be right.
In Hotschedules, users have the ability to prepare for situations like this by using forecast adjustments. If you would like further help and insight into generating a forecast, click here.
Follow these steps to use forecast adjustments:
Log into your HotSchedules account and navigate to the Forecasting tab.
Find the week that you would like to adjust, and select Generated on or Create Sales Forecast next to Forecast Status.

On the left side of the Forecast pane there will be two options, Current Week Selection and Forecast Adjustments. To open the adjustment menu, select the plus sign.
This will open the Apply/Edit Forecast Adjustment menu.
You will see two tabs, Percent Adjustments and Dollar Adjustments. These will be the different adjustment types you can use.
You can use a previously saved adjustment by selecting it from the Apply/Edit menu and choosing Apply Adjustment.

To build a new adjustment, choose the adjustment type you would like to use, and select either Create Percent Adjustment or Create Dollar Adjustment.
This will open a menu where you can begin setting up details for your adjustment:

Name - This is where you will set up the name of your adjustment. Since the name will also act as the primary descriptor, you want it to be as specific as possible.
Weekdays - You can select the days that you would like the adjustment applied to here. Any day highlighted in blue will be affected by the adjustment.
Start and End Time - The time range that you would like the adjustment to run for will be chosen here. Please note that the start time and end time can not be the same.
Factor - The amount you would like the forecast to be adjusted by will be set up here. Depending on the adjustment you are creating, you will input a dollar amount or a percentage.
Revenue Center - Here, you can choose if the adjustment will affect all or only one of the revenue centers located on your point of sale. If your point of sale doesn't have any revenue centers, All will be the only option listed.
When creating a percent adjustment, you will have the option to create another adjustment factor by selecting Add another adjustment. This way, you can create an adjustment with multiple factors that affect multiple days of the week in your forecast.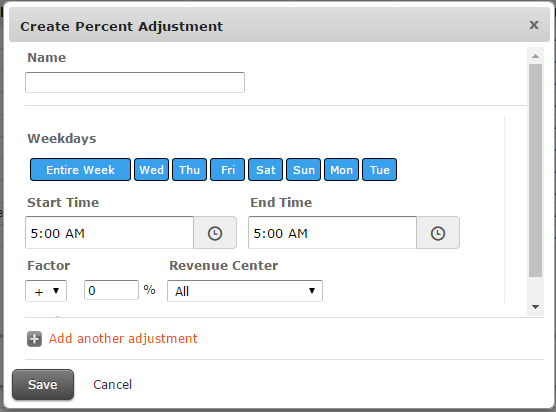 After creating the adjustment, you will still need to click the check box next to it's name and select Apply Adjustment to use it.
You can occasionally run into unexpected results if you create a negative dollar adjustment. Here is an article explaining this behavior: Negative Forecasting Dollar Adjustments
If you have further questions, please reach out to Customer Care.