Special occasions can influence your sales.  In HotSchedules, managers are able to adjust sales and labor driver projections when needed, by creating forecast adjustments within the Forecasting tab. For help and insight into generating a forecast, click here. 
Follow these steps to adjust your forecast projections:
Log into your HotSchedules account and navigate to the Forecasting tab.
Find the week that is needing an adjustment, and click the "Generated on" date next to Forecast Status. Any adjustments that have previously been applied to the week will display beneath the forecast status. 


On the left side of the Forecast pane will be two options, Current Week Selection and Forecast Adjustments. To open the adjustment menu, select the plus sign to the right of Forecast Adjustments. Any adjustments that have previously been applied to the selected week will show here, as well. 
This will bring up the Apply/Edit Forecast Adjustment menu.
Two adjustment types will appear here as tabs. They will be labeled as Dollar and Percent. 
Selecting a tab will allow you to either view and apply a previously saved adjustment or create a new one for that adjustment type.
To apply a previously saved adjustment, select it from the Apply/Edit menu and then click Apply Adjustment. 

To build a new adjustment, choose the adjustment type for which you would like to create an adjustment, and select either Create Percent Adjustment or Create Dollar Adjustment.
From here, fill out the required information to setup your adjustment:

Name - please be aware this needs to be a unique name, the more specific the better.
Weekdays - The days highlighted in blue will be the days the adjustment applies to.
Start and End Time - The start and end time CANNOT be the same time, the more specific the better the adjustment will work. If you need to apply it to an entire day, fill out the start and end times as your business hours of operation.
Factor - Enter how you would like to change the numbers here. + 11% for example.
When creating a percent adjustment, you have the option to create multiple adjustment factors affecting multiple days within one adjustment. To add another adjustment row, select Add another adjustment. Then you can select different days and a different factor. This way you can create an adjustment that encompasses multiple changes to multiple days of the week in your forecast.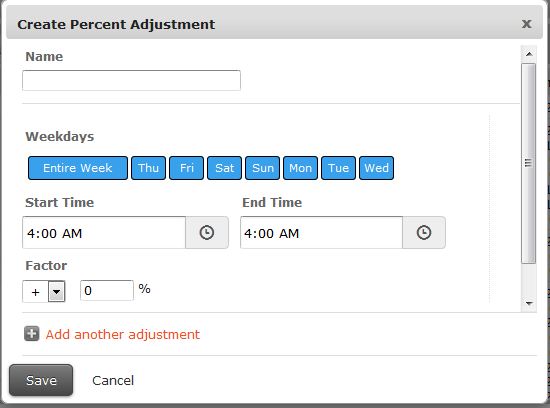 After saving the adjustment, you will still need to click the check box next to it's name and select Apply Adjustment in order for the adjustment to be applied.
The adjustments applied to the forecast will be displayed underneath the Weeks used in forecasts.
If you have further questions, please reach out to Customer Care.
Generating Forecasts