The Roster Report is a daily report of your employees' schedules. It can optionally include floor plans, proforma, and logbook entries (if available). This report is a great way to keep track of who you have coming in for the entire day based on the schedules in HotSchedules. Think of the Roster Report as your overview of what to expect for the day.
Follow these steps to generate the roster report:
Log into your HotSchedules account.
Navigate to the Reporting tab.
You can either use the search box to locate the Roster Report or you can find it under the section called Schedules and Rosters. For your convenience all reports are listed in alphabetical order.
Select Roster Report, and the report settings will appear.
Use the calendar to select the correct date at the top of this page. You can generate this report for any date in the past or future that you have written schedules for. It will initially default to the current day.
Select any other formatting options that you prefer for the report. You can adjust which schedule you want to generate the roster for and how much information you will see for each employee. Additionally, you can include information from your proforma report or flagged Digital Logbook entries.
Once you have all your preferences checked, you will select either Generate Report or Print Report depending on whether you are attempting to view the report or print it out.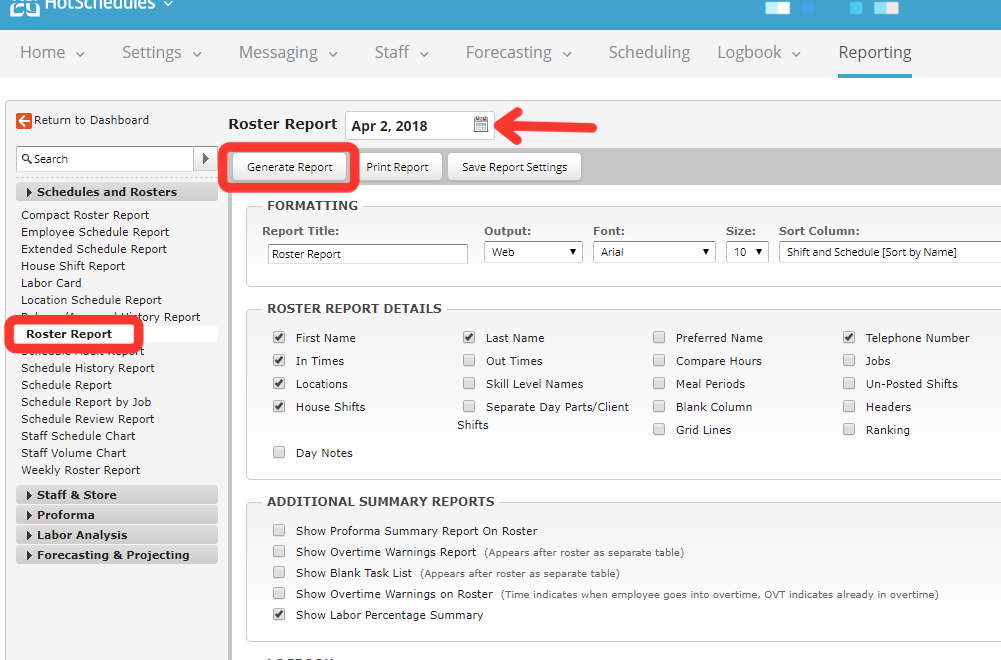 Note: The are additional roster reports such as compact roster and weekly roster with different views but are great options too.