In order for jobs to post on the KFC Career Page, they need to be marked as "accepting applications" within Talent@KFC.


To mark jobs as accepting applications:
To access Jobs, follow this path: Settings. → Select your organization. → Company Settings/Jobs.

The jobs will appear on the left. To open a job, click on the Job Title.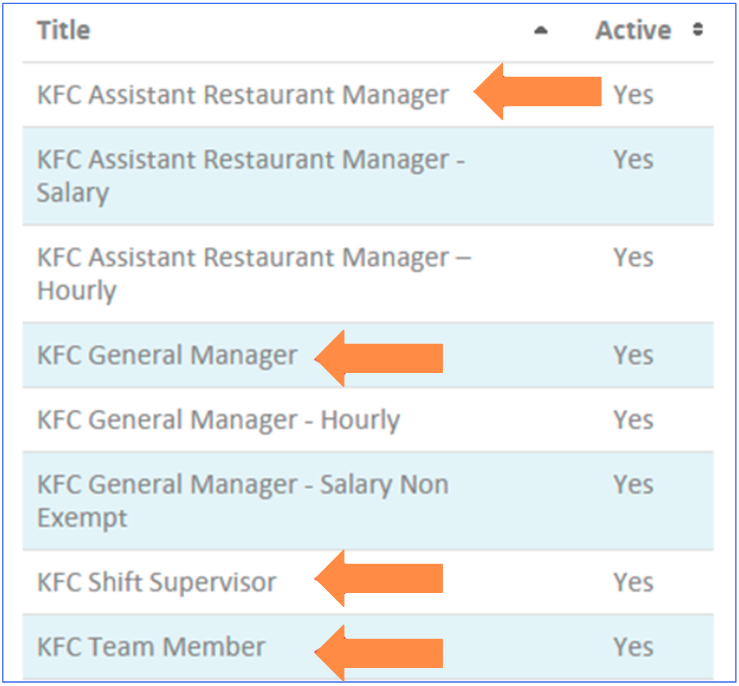 The Job's details will open on the right.
Scroll to the bottom of the job to the section called Locations. Here you will need to:
Use the Organizational Chart icon to denote jobs that are "Eligible for Hire." This denotes that this job exists at your organization. Managers will see this job during the hiring process and be able to assign this job during the Hire Candidate workflow.
Use the Megaphone icon to indicate that the job is "Accepting Applications." Click the checkboxes to denote this job is accepting applications at the location. This posts your jobs to the KFC Career Page. This should only be done for the four positions listed.
Ignore the Letter I with the Arrow icon. This is used for integration with the Indeed job board which is being handled automatically through the KFC Career Page.
Important Note: In order for integration to the KFC Career Page and Merit to work successfully, you will only mark jobs as accepting applications for these four positions. (The other AUM and GM positions listed are used during the hiring process to hire into specific pay types, for example: Salary Non Exempt.)