What's Changing?
Planning: Simplified Default View

Post-production: Addition of Revenue, Design Refresh

Additional Data from POS: Revenue, Unknown Tariff
Release Date: 27th April 2021.
Reason for the Change
Using a less detailed 'default' view in Planning makes it easier to scan and quicker to populate for those users interested primarily in adding 'planned quantity' values. The addition of revenue and unknown tariffs will increase the accuracy of sales information sent from the point of sale system (POS).
Customers Affected
Simplified Planning and Post-production: All Menu Cycles customers
Additional Data from POS: Impacts customers with a data import from POS
Release Notes
Simplified View in Planning and Post-production
A simplified view of planning and post-production which displays less detailed information in the default view (meal periods are collapsed) while maintaining the existing planning values in an expanded view.
Planning - default view, meal periods are collapsed – see Fig.1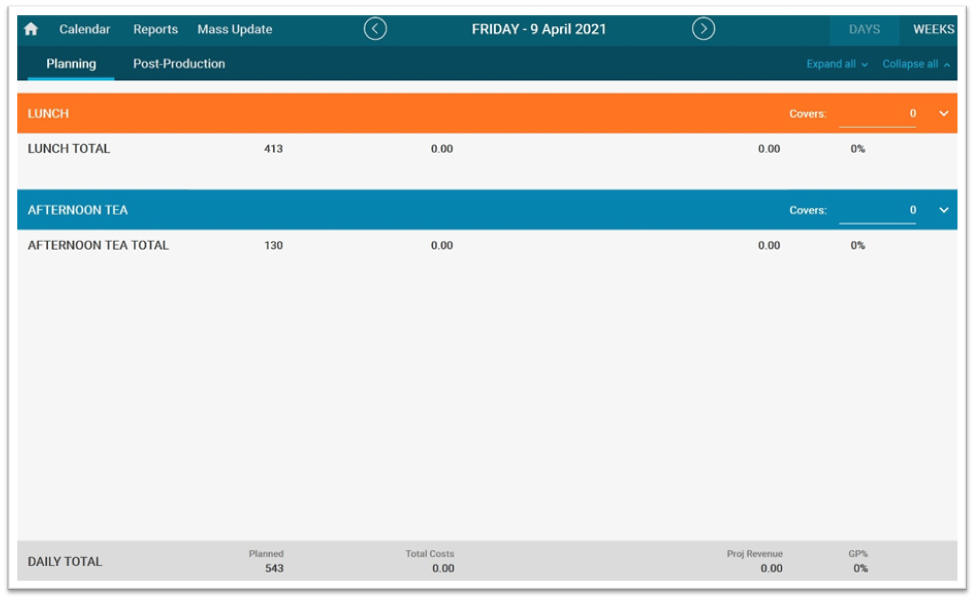 Fig.1 – Default view
Planning - Meal Periods can be expanded. Planned quantity is displayed, tariffs are not displayed – see Fig.2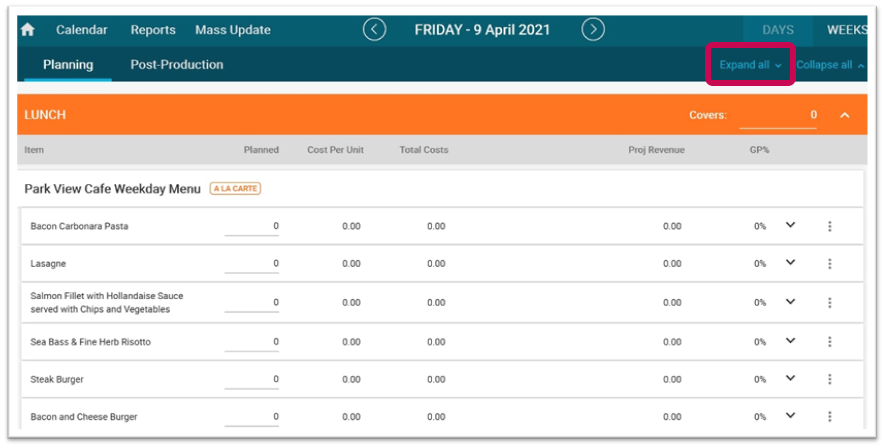 Fig.2 – The 'Expand all' button on Planning
Rows in menus can be expanded individually to display tariffs – see Fig.3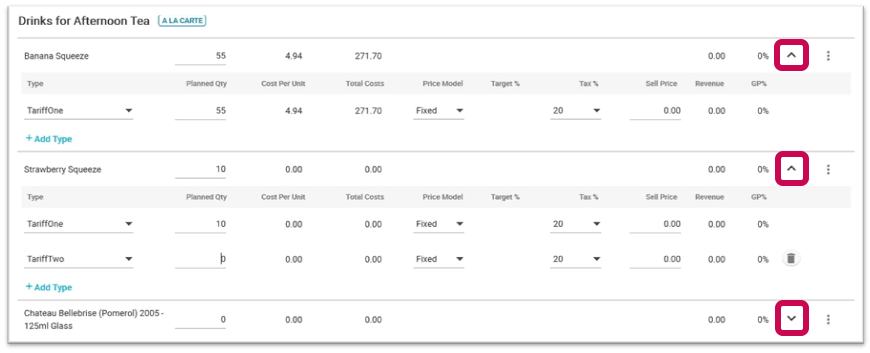 Fig.3 – Expanding individual rows
Access Update Prices via the three-dot menu on the right side – see Fig.4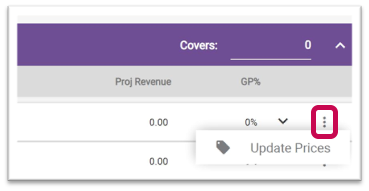 Fig.4 – 'Update Prices'
The Add Type (Tariff) option has been moved to the left-hand side – see Fig.5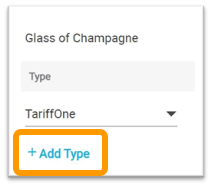 Fig.5 – 'Add Type' tariff option
Planned Qty can be populated at either recipe or buffet menu header level or at tariff level. Header-level planned quantity is a sum of tariff-level planned quantity
Planned Qty at header level is linked to the first tariff displayed for the recipe/buffet menu. If planned quantity is changed in the header, the first tariff will adjust to ensure that the header always displays an accurate sum of tariff-level planned quantity.
In the example shown below in Fig.6 and Fig.7, the header-level planned qty was reduced from 33 to 23. The first tariff then reduces from 11 to 1 to reflect this header-level reduction of 10.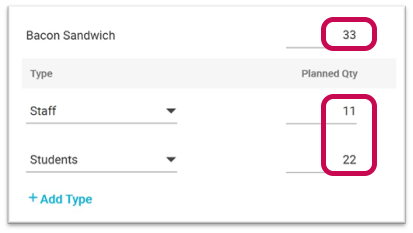 Fig.6 – 'Planned Qty' values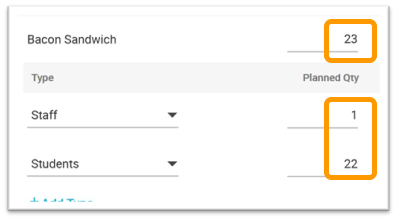 Fig.7 – Changes to header-level value impacts first tariff and vice-versa
Post-production (local user only)
Revenue has been added to the Post-production view for Days and Weeks.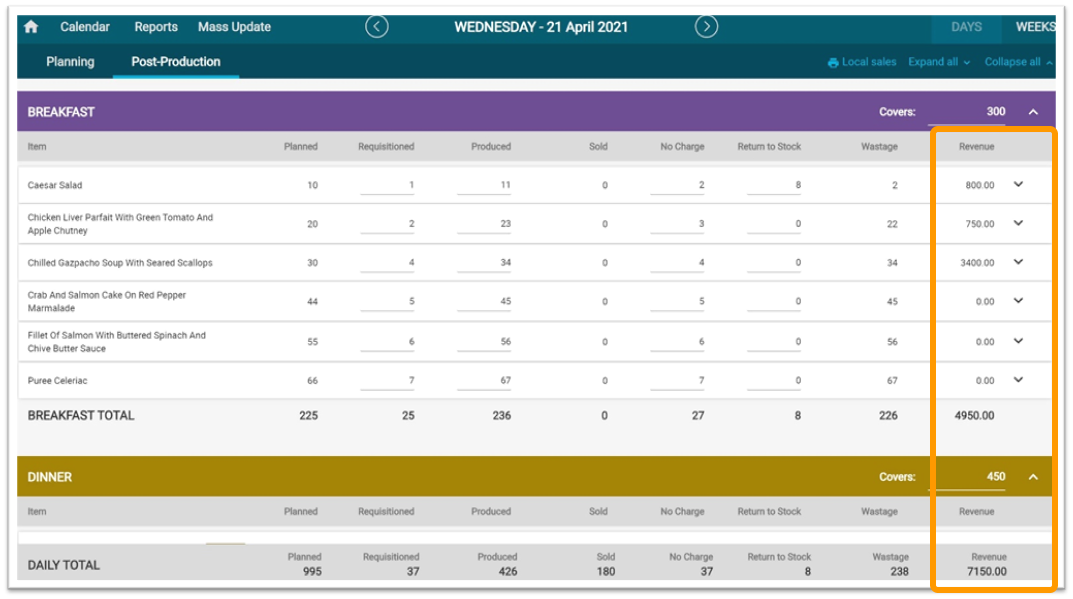 Fig.8 - Revenue figures in the Post-production view
In the 'Days' view:
When revenue is imported from POS, the Revenue field is not editable
When revenue is not imported from POS, the Revenue field is editable

When not populated either by POS or user, the Revenue value will be zero. Revenue will not be populated with a calculated theoretical value

Daily and weekly calculations remain the same for all the columns
Local Sales History Report
The 'Revenue' value has been added to this report.
Local Sales Report
The 'Revenue' value has not yet been added to this report.
Reports and Exports that use 'Revenue' will continue to use theoretical calculated revenue
Reports and exports that use 'Revenue' as a value have not yet been updated to reference the 'actual revenue from POS'. These reports and exports will continue to use a theoretical revenue value that is typically calculated from 'quantity sold' x 'net sell price'.
There will therefore be a period of time during which 'Revenue' in the Menu Cycles Post-production view and revenue used will differ on these reports and exports:
Performance Report

Fourth Analytics Dashboard
Data import from POS, Unknown tariff
When an 'unknown tariff' is sent from POS and imported into the Menu Cycle post-production data, it will be displayed on both Planning and Post-production screens.
The 'unknown tariff' row will not be populated in the Planning view. On Post-production, the 'unknown tariff' will display a revenue value and a 'sold' quantity (if this information is sent from POS).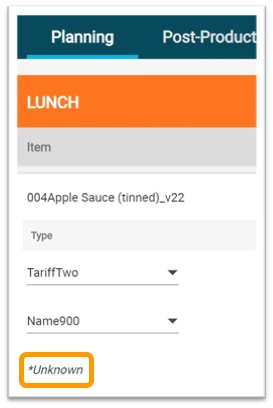 Fig.9 – Unknown tariff as displayed in Planning

Fig.10 – Unknown tariff as displayed in Post-production
If an Unknown tariff is imported for a recipe and the recipe has not been 'saved' in Planning, the 'default tariff' that is normally displayed for such recipes will be replaced by the Unknown tariff.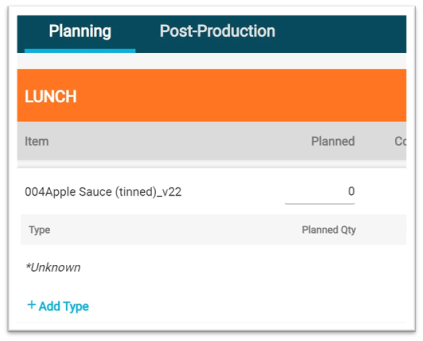 Fig.11 – A recipe in Planning with only the Unknown tariff and without the usual 'default tariff'
Other related updates for Planning and Post-production
Tariff order will rearrange itself (Planning and Post-production)
When 'saved', tariff order as displayed in Planning and Post-production will always arrange itself to match the tariff order in the drop-down selection list. The reason for this reordering is to ensure that the Unknown tariff is always displayed at the bottom of the tariff list.
Tariffs deleted from Planning will also be deleted from Post-production
When a tariff is deleted from Planning after POS values have been imported, the tariff and associated POS value, e.g. revenue, will also be removed from Post-production. To mitigate this accidental removal of tariffs, qty sold and revenue that have been imported from POS, the POS data should not be sent until the end of the working day (when Planning values are likely to have already been completed) or the following day, when Planning will be no longer be editable.