The Change
To be able to enter nominal codes against the sites for the invoice export to the accounts package.
Release Date: 28-Aug-2013
Reason for the Change
Standard Functionality.

Customers Affected
All R9 customers wishing to export invoices and credits
Release Notes

Nominal Code Location
Follow the path: Set Up >Organisational Hierarchy >Create New/Edit Site.

Fig 1 - Edit Site
To add to an existing site click edit on the site.

Fig 2 - Nominal Code Field
Under Site Configuration is the field Nominal Code.
Enter the code and then save the changes.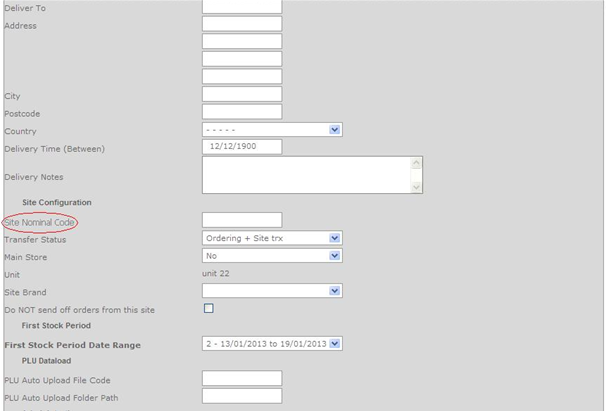 Fig 3 - Nominal Code Field
For new sites, when creating the "Nominal Code" is in the same place as when editing.
Save changes.
Note
The nominal code can be alphanumerical and can accept hyphens and underscores.
The code must be unique per site.
Changes to the code will impact the output to the accounts package.
Once all relevant nominal codes are entered, all "approved and marked for export" invoices and credits will be posted to the corresponding code within the external accounts package upon export.
Required Security Permissions
The table below provides the required security permission for a particular action:
| Module | Security Permission | Functionality | Level |
| --- | --- | --- | --- |
| Core | Menu Access | Organisation Access | Menu Access |
| Product | Organisation | Site | Create |
| Product | Organisation | Site | Edit |
Also See