What's Changing?
New functionality that allows the updating of sales processing statuses for selected site(s), resulting in sales being redistributed on the next stock period close.
Release date: Thursday 26th November 2020
Reason for the Change
Currently, customers need to raise a case with Fourth for a sales processing status to be updated. Such requests are required where sales have already been processed and distributed but changes have been made to recipes or an assignment to site. Introducing an interface for customer administrators to control this directly within Inventory puts the customer in control, removes the requirement to raise a case, and reduces lead time.
Customers Affected
All Inventory customers, though the configuration for updating sales import status is controlled by user permission and will be disabled by default.
The functionality can be added to desired profiles on request – please liaise with your Fourth contact to have this done.
Release Notes
Update Sales Import Status
A new user permission has been introduced, called Update Sales Import Status.
Go to Sys Configuration> All options > Roles
From the Module drop-down, select Stock
Select the Administrator Role from the list and then go to the Role Functionalities tab
Tick the box against Update Sales Import Status
Scroll down and select Save


Fig.1 – New 'Update Sales Import Status' user permission
With this permission enabled, the relevant user will then go to: Stock Management > POS figures > Update Sales Import Status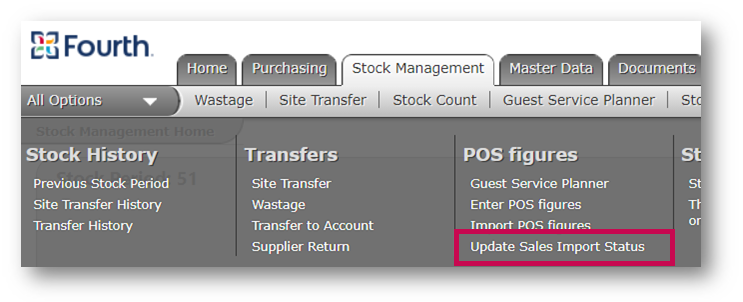 Fig.2 – Update Sales Import Status menu option
A tree structure for selecting Sites will then be displayed – see Fig.3.
Select the required Locations by ticking the boxes next to them
The Include Closed Stock Periods box can be ticked if desired

If ticked, selected Sites with closed stock periods will be included

If not ticked, selected Sites whose periods are closed will not be included

Select Next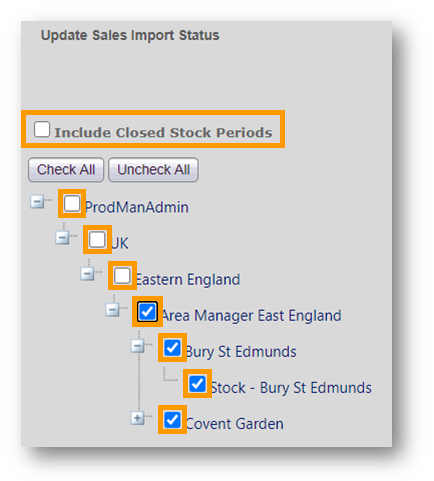 Fig.3 – Location tree structure
The selected Sites that meet the 'Include Closed Stock Periods' criteria will be represented for confirmation – see Fig.4.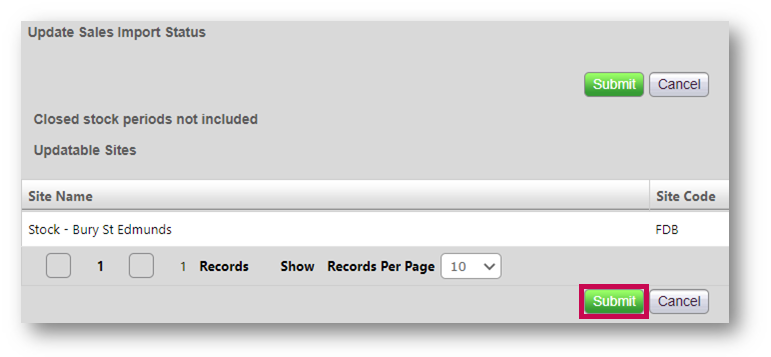 Fig.4 – Submitting Sales Import
To update the sales processing flag for the selected Sites' stock period, and for sales to be redistributed on the next period close, select Submit
To return to the Update Sales Import Status page, select Cancel
Please note: In the example shown in Fig.3 & Fig.4, while Covent Garden was selected, the period for this Site was closed and the option to include closed stock periods was not selected.