Overview
The earlier year update function is used to report adjustments to any figure previously reported in real-time to HMRC for individual employees. The earlier year update can only be submitted after the 19th of April following the tax year that should require alteration.
Process
Once the need for adjustments has been identified, access the Earlier Year Update (EYU) from the following location:
Payroll Module Home > HMRC Data Exchange > Earlier year update (EYU)

Fig.1 - Accessing Earlier Year Update
Enter the PAYE Company
Select the correct tax year
Select Submit new Earlier Year update
Select the required employee, put in the employee number and search
Select the required employee record to open the adjustment page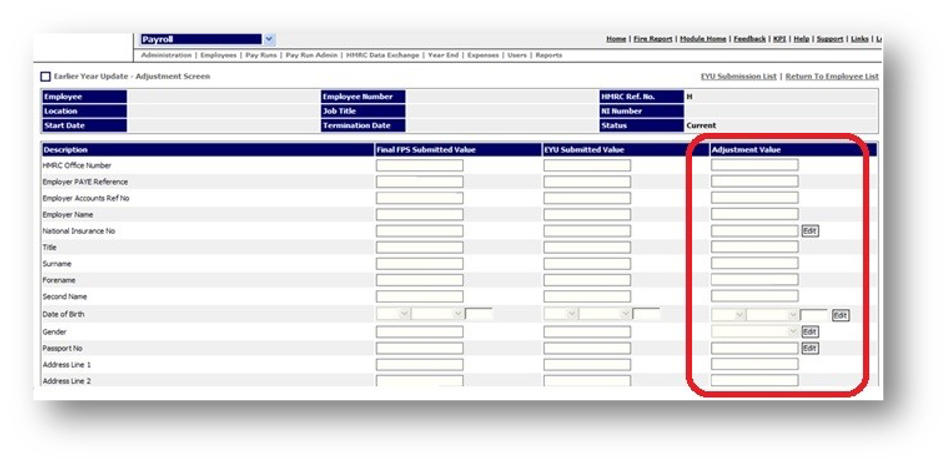 Fig.2 - Adjustment Page
The EYU screen will display all the year to date figures that have already been submitted to HMRC on the last FPS file of the period in the column titled 'Final FPS Submitted Value.'
Add the adjustment value to the relevant field in the column titled 'Adjustment Value'. Select Edit to add the value.
The adjustment value is the difference between the amount already reported and the correct amount that should have been reported. For example, £650 was reported on the last FPS however this should have been £500. Therefore the adjustment amount should be £-150.00.
Select the save button at the bottom right of the screen to update the record
A pop-up box will appear, select on OK
Select the Earlier year update (EYU) screen from the HMRC Data Exchange menu


Fig .3 - Editing Earlier Year update

Fig.4 - Adding a new employee
A list of the employees that have been submitted for an EYU will be displayed.
These can be amended by selecting the Record, or add a new employee by selecting Add New Employee at the bottom
The adjustment values will be displayed in the employee's record in the column titled 'EYU Submitted Value'
Once happy, select Process and Submit
A message will appear asking to select OK to submit

Fig.5 - Submitting changes
This will take the user back to the main EYU screen where a message will be displayed confirming that the EYU has been submitted.

Fig. 6 - Confirmation of EYU
Once the file has come back from HMRC, the correlation ID will be displayed once the Company has been selected from the drop-down list in the earlier year update (EYU) screen.

Fig.7 - Correlation ID