What's Changing?

Introduction of the ability for a user to force export a credit note manually on the Inventory UI.
This is controlled by a user permission which must be switched on by Fourth.

Release Date: 12th March 2019

Customers Affected

Any user with the correct permission can use this functionality.

Release Notes

Invoicing Admin has access to this functionality.

Path to the user permissions:
Sys Configuration > Roles > Invoicing Admin > Role Functionalities
Find Document Exports > Force Export and tick the Access box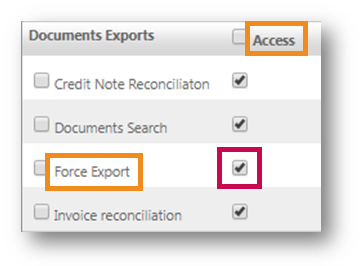 Fig.1 – Ticking the Access box against Force Export
On the same page, the ​​​​​​second permission is:
Find Document Credits > Credit Notes and tick the Mark box

Fig.2 – Ticking the Mark box against Credit Note
When the user permission is enabled then the user has the ability to force export a credit note.
If a user raises and approves an Order, records the Invoice against the GRN with a discrepancy and raises a Credit Request, they are taken to the Credit Request screen. From here they can create a credit note document.
The new Force Export button will appear on the Credit Note document

Fig.3 – Force Export button
When Force Export is selected, a warning message will appear (see Fig.4), giving a chance to confirm the decision

Fig.4 – Force Export warning message
After selecting OK, the Credit Note status is set to "Marked for Export" and the document recon status is set to "Marked for Export".

Please note: When a Credit Note is already "Marked for Export" or "Exported", the Force Export action is disabled.