To view all Fuego articles, please sign in as shown. Otherwise, read our Product Overview.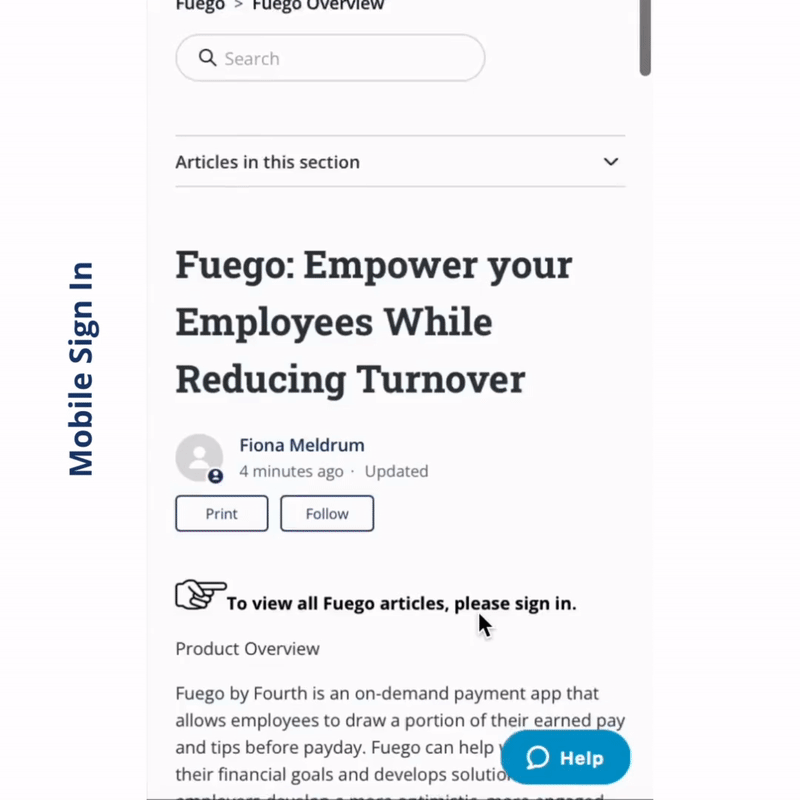 Product Overview
Fuego by Fourth is an on-demand payment app that allows employees to draw a portion of their earned pay and tips before payday. Fuego can help workers meet their financial goals and develops solutions to help employers develop a more optimistic, more engaged, and more productive workforce.
Earned Wage Access
Employees can draw up to 50% of their earned funds after completing a shift, which is deducted from net pay at the end of a pay period like other post-tax calculations, at no cost to the employer. And because Fuego integrates with HotSchedules, every time an employee logs in to check their schedule for the week, they can instantly get a view of their earned wages that are available for immediate draws.
Tip Pay Out 
75% of consumers prefer to pay at restaurants with a credit or debit card over cash - so why should you bear the burden of paying out tips in cash? Fuego's tip pay out solution reduces an employer's dependency on cash by automating the tip payout process and providing employees with flexibility and choice in payment.
Fuego Visa® Card
To directly help unbanked or underbanked workers, Fuego offers the Fuego Card to give on-demand pay1 customers a trusted and convenient source for debit transactions. Wage draws can be made to the Fuego Card at zero cost, and the Card can be used for any number of financial transactions. There are no inactivity fees, no cost to set up, no fees associated with wage draws, and employees can access their pay up to two days early2. Plus, the Fuego Card is protected by Visa's Zero Liability Policy.
You can download a flyer here for your employees both in English and Spanish to promote the Fuego Card as needed:
Fuego Visa Card - Employee Flyer (English)
Fuego Visa Card - Employee Flyer (Spanish)
Fuego enables Employers
 to:
Attract top talent: 95% of employees prefer working for an employer that offers earned wage access, and nearly 80% of hourly employees are willing to switch employers for the same reason. Fuego helps you stand out among the competition.
Improve retention and engagement: 79% of employees say they worry about personal finances while at work. Keep your employees engaged and eliminate quiet quitting for good.
Encourage financial wellness: 70% of hourly employees say they have less than $500 saved in case of a rainy day. Help reduce employee financial stress and empower them to reach their financial goals.
Fill open shifts: Incentivize employees to pick up more shifts with real-time payments. Plus, with shift and earnings insight capabilities right in the Fuego app, employees can see their whole financial picture and work hours that help them meet their financial goals.
Save on payroll process costs: Fuego eliminates the need for costly pay checks, removes the overhead of pay card administration, and helps eliminate the escheatment process entirely.

 To find out more, go to www.getfuego.com 
To see articles relating to Fuego, please sign in or sign up using the button in the top right of the menu banner
A guide is available here: Customer Success Portal: Signing up to the Customer Portal
1. Central Bank of Kansas City does not administer nor is liable for on-demand pay/wage draws.
2. For you to be paid early, your employer or payment provider must submit the deposit early. Your payment provider may not submit the deposit early each payment period, so ask when they submit your deposit information to the bank for processing. Early funds deposit begins on the 2nd qualifying deposit, which is defined as a direct deposit greater than $5.00 received from the same payer.
The Fuego Visa Card is issued by Central Bank of Kansas City, Member FDIC, pursuant to a license from Visa U.S.A., Inc. and may be used everywhere Visa debit cards are accepted. Certain fees, terms, and conditions are associated with the approval, maintenance, and use of the Card. You should consult your Cardholder Agreement and the Fee Schedule at www.getfuego.com/legal. If you have any questions regarding the Card or such fees, terms, and conditions, you can contact us toll-free 24/7/365 at 1-855-715-8518.