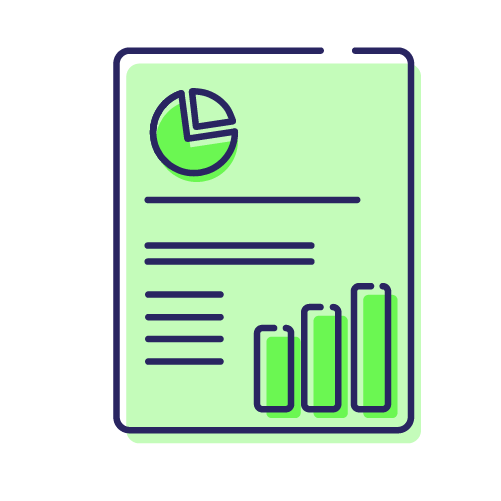 NEW PeopleMatter Reporting (Beta) is Live on 7/15 !

What's New?
The entire backend of PM reporting was replaced, which dramatically improves the speed, reliability, and data "horsepower" of the reporting feature-set

You can use Beta Reporting by opting in to the New Experience or in the Legacy PeopleMatter Interface (as seen below)

Additionally,

Dashboard reporting, coming soon!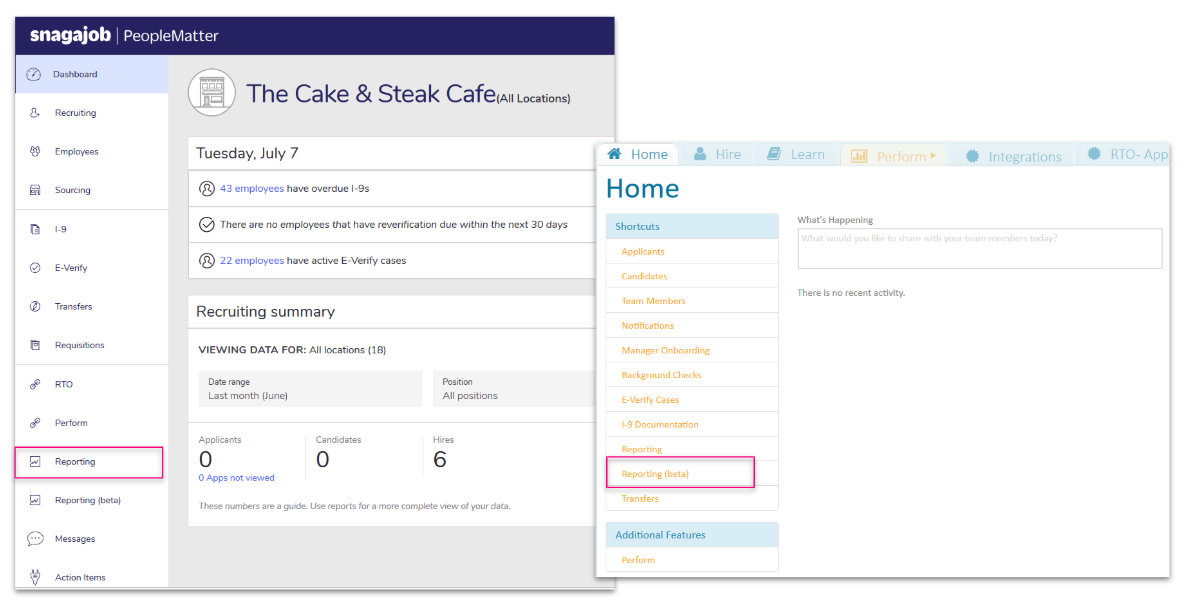 When will the beta reporting tool first be available for customers?
The tool will be live, with the first five reports, on Wednesday, July 15.
What are the four reports that will be included in the initial release?
Employees Onboarding

Applicant Data

I-9

Reverification

Pay Ranges
We will continue to migrate PeopleMatter Reports into the Beta Reporting Tool in future releases.
We've recently added:
I-9 Audit

Custom Onboarding Task Responses

Update to I-9 Reverification Report (8/17)

New Column: Employment Status

Filter by Document Type

Filter by Status (Active or Inactive)

The report now excludes irrelevant documents (such as Driver's Licenses).

The report now excludes individuals who are not subject to I9 Reverification (US Citizens and non-citizens).
Functionality Changes
Legacy Vs. New Reporting
| | |
| --- | --- |
| Filters do not show list of values until clicked | Filters show the list of values as soon as the report is opened |
| After opening the filter, options "All", "None", or "Inverse" may be selected | Options "Select All","None", and "Invert" are available (same effect as "All","None", and "Inverse" in the legacy/current system |
| Selected items are highlighted and checked | Selected items are highlighted, not checked. |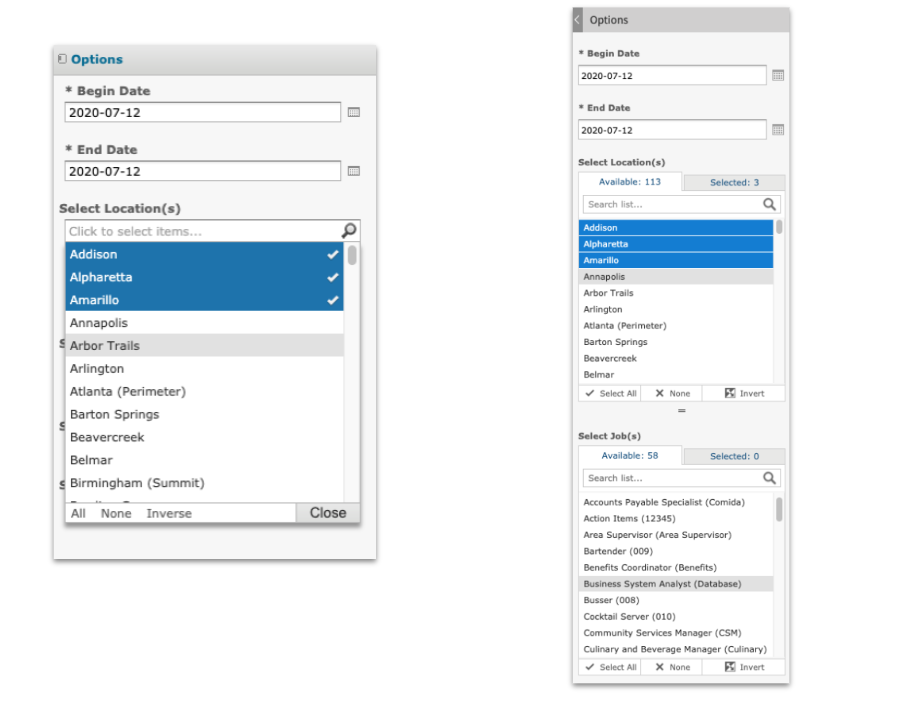 Scheduling Reports is different in the new system
To schedule a report, right-click the report and select "Schedule"

Next, select "Create Schedule"
Below is an example schedule that will run weekly on Monday at 9:00 AM, July 20,2020 through August 4, 2020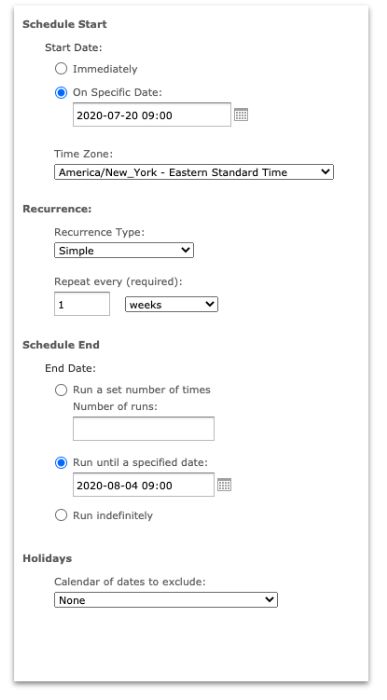 Next, select Parameters

This report will run July month to date (more data will be included as it becomes available, data is loaded daily)

Only locations Addison and Annapolis will be included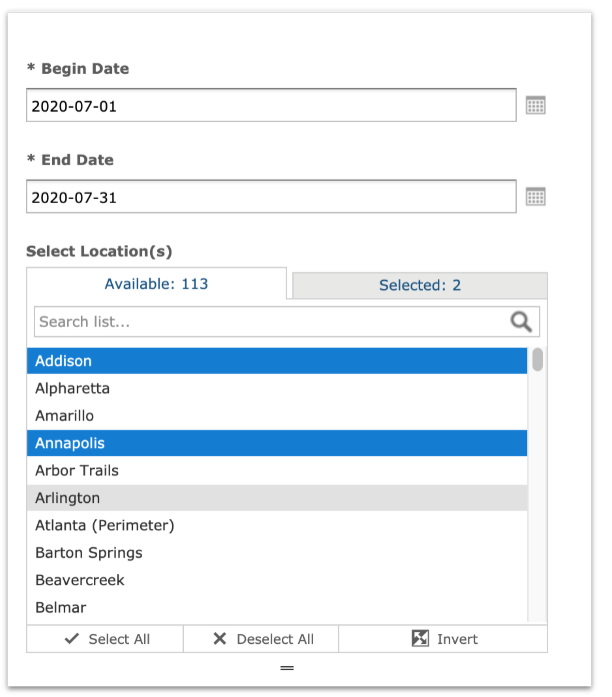 Next, select "Output Options"

This allows choosing a name for the report, adding a description, and selecting an output format (in this example, PDF)

It is suggested to add "yyyyMMdd" to the file name as shown below, to indicate what's contained in the file.

The only supported output option is "Output to Repository".

Your organization will have a special folder called "Scheduled Report Output", where the scheduled reports will be created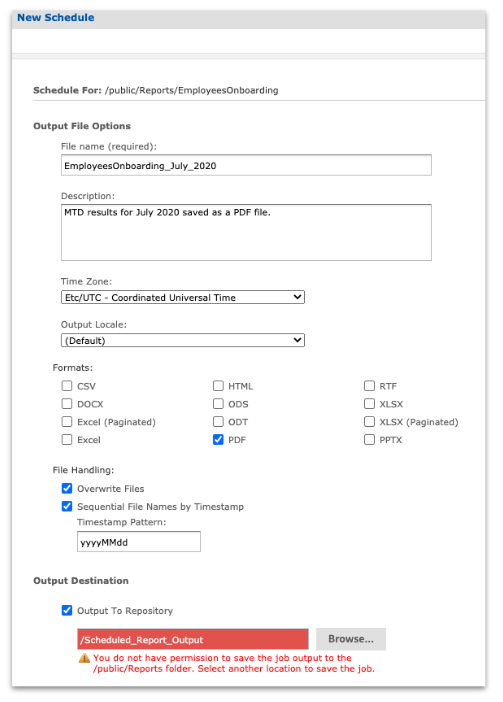 Next, click "Save" at the bottom of the screen. You will be then asked to add a name and description for the scheduled job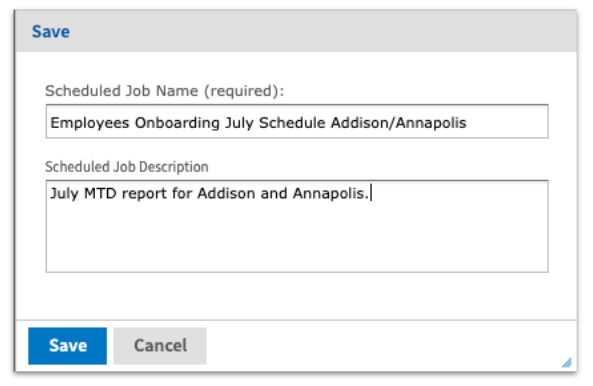 Schedules can be viewed or modified by selecting View->Schedules

Scheduled reports that have finished can be viewed by selecting View -> Repository, then on the left, navigating to "Scheduled Report Output"