+Dashboard Features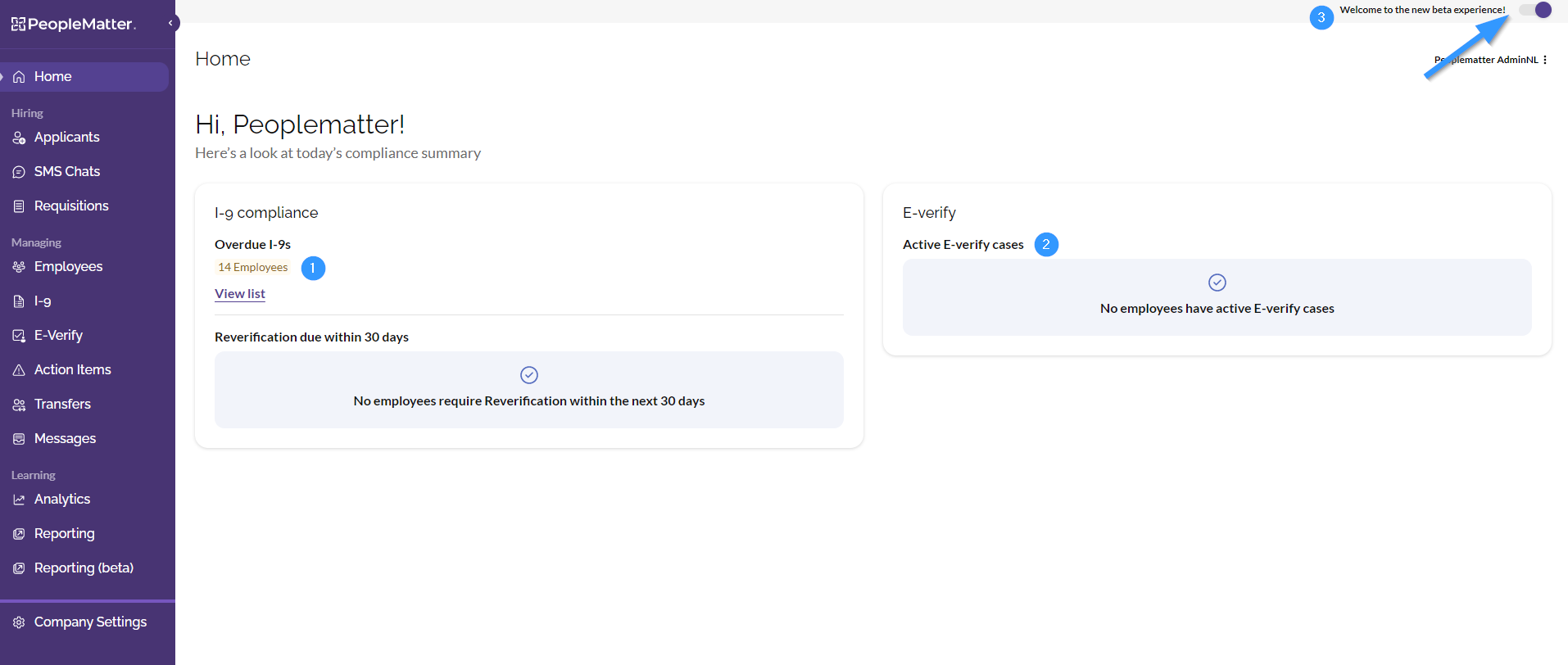 Use the Compliance overview to see a summary of incomplete I-9s and pending E-Verify cases.
Click on view list against I-9 Compliance to view employees with overdue I-9's and take action on the I-9 from the I-9 Documentation page.

Click on view list against E-verify to view employees with active E-verify cases, to view each case in more detail.

Slide the switch on the beta banner to the left to opt-out of the dashboard experience and return to the old homepage.
+Navigation
1. Use the Applicants tab to Manage Applicants and Candidates.
2. Use SMS Chats to message applicants.
3. Use the Requisitions tab to Manage Requisitions.
4. Use the Employees tab to Manage your Employees
5. If you are using any of these additional optional features they will be displayed:
Background Checks
I-9
E-Verify
6. Use the Action Items tab to Manage any Action Items you've created.
7. Use the Transfers tab to manage Employee transfers
8. Use the Messages inbox to Manage your Inbox.
9. If you are using any of the optional features below they will be displayed:
10. Use the Analytics tab to Manage application and hire statistics.
11. Use the Reporting and Reporting (beta) tabs to manage your Reports.
12. Use the Company Settings tab to quickly access your Organization's settings
+Your Account
To log out, click the arrow in the upper right corner next to your name.

Click Help to go to our Knowledge Base.
Click Personal Settings to update your personal information.
Click Workfile to view your Workfile.