To take action on an Applicant Record:
Click WorkSpaces.
Under your organization's name, click Administrator.
The Administrator Workspace or Home tab will appear.
Click Recruiting.
Applicants will display. You can filter by Applicants, Candidates or All.
Click on the Applicant's Name to view the Applicant Record in detail.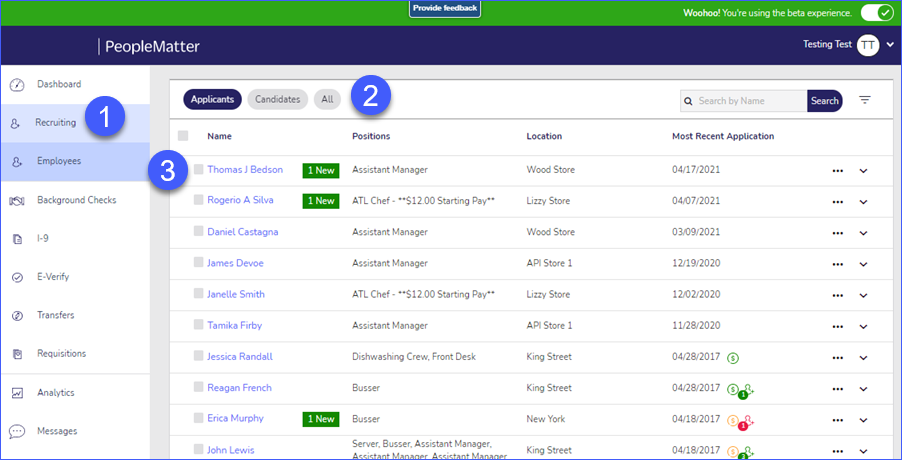 Within the Applicant's Record, you can:
View demographics, such as Name, Email Address, and Phone Number.
View the details of the Applicant's Record within each tab:
Tracking - View where the applicant has applied and the position(s) applied for.
Applications - View a complete overview of the Applicant's Record. Print Application, if desired.
Assessments - View Job Fit Report for Personality & Cognitive Results and View Attitude Report for Attitude Results, if applicable.
References - View References, if applicable. Indicate Positive or Negative Feedback, if desired.
Notes - Document professional notes regarding the applicant, if applicable.
Documents - View resume and e-signed documents, if applicable. Upload documents, if needed.
In the Applicant Record, on the Tracking tab, click Applicant to view the available statuses and take action.
Actions
Click Make Candidate to make the applicant a candidate.
Click Save for Later to mark the applicant as saved.
Click Remove Applicant to remove the applicant from consideration; this status does not send notification to the applicant.
Click Remove Applicant - Send Rejection Message to remove the applicant from consideration; this status will prompt you with a message template to send to the applicant if an email address is on file.