Congratulations on getting hired! As part of your new hire tasks, you may see the I-9 Form as part of your Onboarding, here's some additional information on how to complete this form:
Employers use the I-9 Form to verify the identity and employment authorization of individuals hired for employment in the United States.
Both employees and employers (or authorized representatives of the employer) must complete the form.
If you're not sure what documents to use for Employment, please review the Acceptable documents here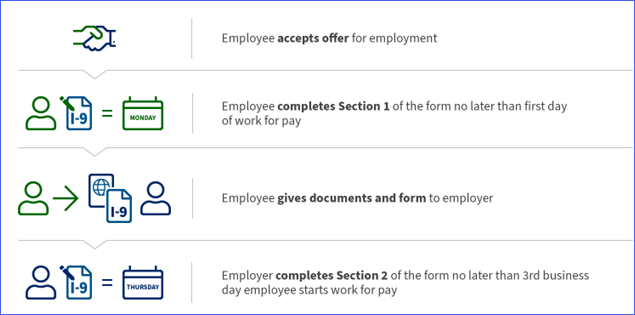 For Employees:
Please review the steps outlined on completing Section 1 of the I-9 form:
Full legal name;

Employees with two last names (family names) should enter both names. Employees with two first names (given names) should enter both names.
Employees with only one name should enter it in the Last Name field, then enter "Unknown" in the First Name field.
Employees should include the hyphen (-) or apostrophe (') if their names have them.
Employees with a middle name should enter the middle initial.
Other legal last names used, including a maiden name, if applicable. Current address, including street name and number city, state and ZIP code. Include the apartment number or letter if applicable;
Date of birth;
Citizenship or immigration status, by checking the appropriate box to indicate whether they are a U.S. citizen, a noncitizen national, a lawful permanent resident of the U.S., or an alien authorized to work in the U.S.;
If applicable, Alien Number/USCIS Number, Form I-94 admission number, or foreign passport number (including country of issuance), and the date employment authorization expires; and
Signature and the date.
Additionally, employees may provide their:
Social Security number (Exception: Employees must provide their Social Security number if you participate in E-Verify)
E-mail address
Telephone number.
If using a Preparer or Translator, please read the following section:
Employees must sign the form (an E-Signature will be captured upon your completion of the form) even if a preparer or translator helps them. Preparers or translators who help your employee must provide their name and address and must sign and date the certification on the form. If more than one preparer or translator helps the employee complete Section 1 of Form I-9, you may use Form I-9 Supplement, Section 1 Preparer and/or Translator Certification, to document each preparer and/or translator.

If more than one preparer and/or translator helps the employee complete the form using a computer, the preparer should select the number of certification areas needed from the dropdown provided. Any additional certification areas generated will result in an additional page.
Each preparer or translator must complete, sign and date a separate certification area. You must retain completed supplement sheets with the employee's completed Form I-9.
The date your employee enters next to his or her signature should match the date the preparer/translator signed the form.
If the employee did not use a preparer and/or translator, the employee must check the box marked "I did not use a Preparer or Translator."
Once you've completed Section 1 of the I-9 Form you may proceed with the rest of your Onboarding tasks and Submit them.

If you made a mistake on your section of the I-9 Form please let your Employer know and they will proceed with next steps for corrections.