Managers and Administrators can use filters to narrow down applicants and candidates efficiently.
To filter applicants:
Click WorkSpaces.
Under your organization's name, click Administrator.
The Administrator WorkSpace or HOME tab will appear. Click Applicants.
Applicants will display.
There is a toolbar used for filtering located under the Name Search field.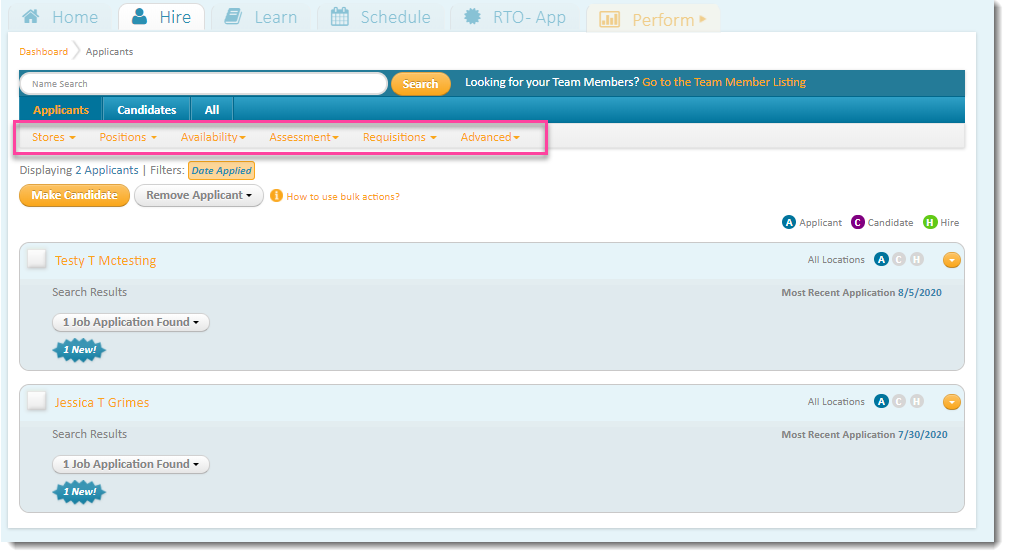 The following filters are available:

Units - Use the Units filter to filter on a specific unit or specific units. You can only filter on the units you have access to within the organization.
Positions - Use the Positions filter to filter on a specific job or specific jobs.
Availability - Use the Availability filter to filter on the different shifts available at your organization; this filter will narrow down applicants based on the availability they indicated on the job application.
Assessment - Use the Assessment filter to filter on assessment results, which include:

Recommend - Green
Caution - Yellow
Red - Discontinue

Advanced - Use the Advanced filter to filter on the following items:

Tax Credit Processing - Not Pre-Screened, Pre-Qualified, Not Pre-Qualified
Status - Saved for Later, Removed

These statuses apply as PeopleMatter will never delete an applicant. You can use these filters to retrieve an individual whose record was marked previously with one of these statuses.

Inactive Jobs

This status will display individuals who applied for positions that are now marked as inactive within the system.

Only Jobs "Accepting Applications"

This status will display jobs that are currently marked as "accepting applications."

Only New

This status will display individuals whose applications have not yet been viewed.

Date Applied

Only the last 30 days of applicants will be pulled by default
We have replaced the time range search option with predetermined options which include: today, 7 days, 30 days, 60 days, 90 days, 180 days, and 365 days.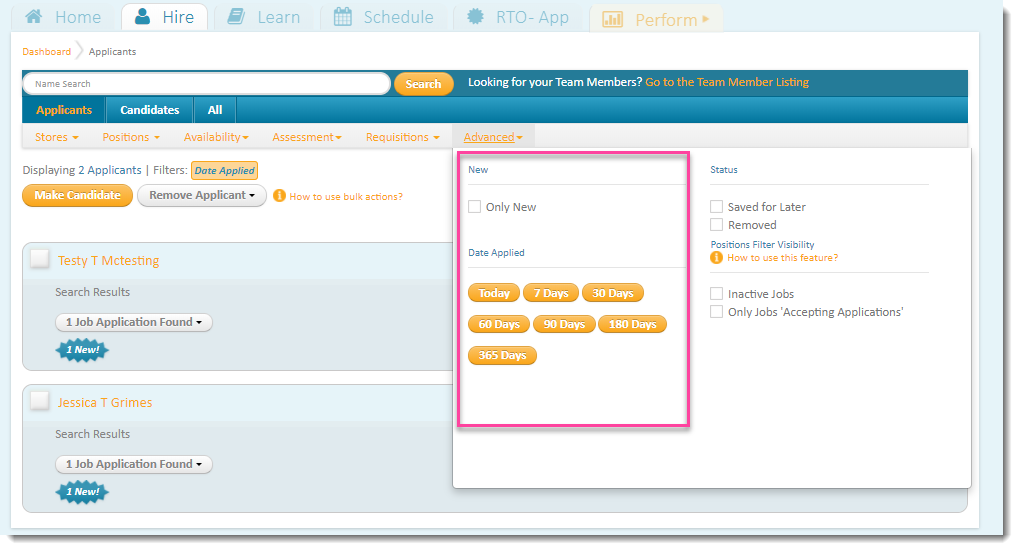 To apply filters, click on the filter(s) and make the selection(s) you want by clicking the appropriate checkboxes.
If you have applied filters, they will appear as shown here; if you want to turn off a filter, simply click the X next to the filter's name. Note: This is not available on the Date Applied filter. This is functioning as intended.
Filters will "stick" or remain "on" for you as an individual until you change your filters. If you want to remove all filters, click Clear All Filters. Please note: The Date Applied filter will remain "on," even after clicking the Clear All Filters button. This is functioning as intended.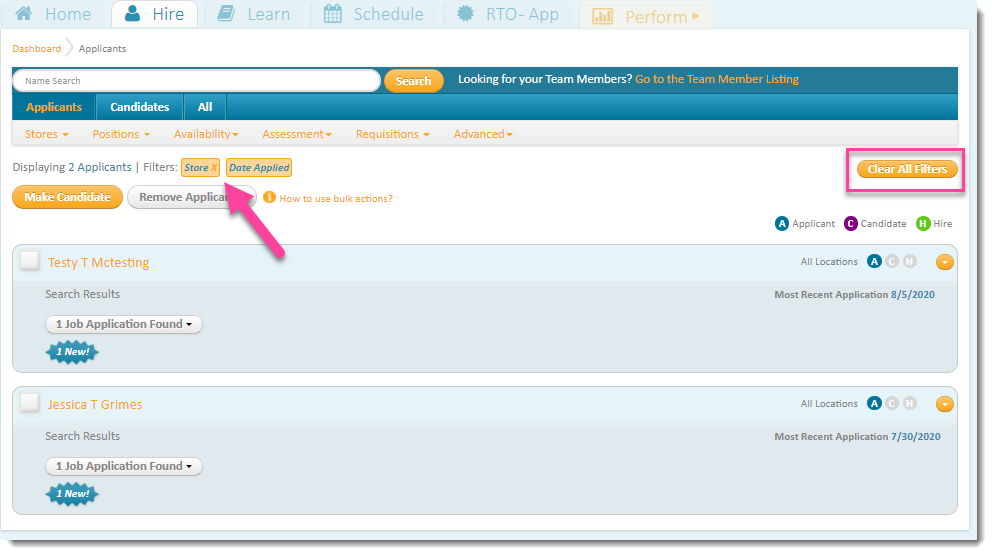 Notes:
If your access is limited based on locations or positions, you will continue to only see applicants/candidates for the locations and positions that you have access.