Enhancements
Scheduler Updates
A new Schedule Exceptions Report has been added to the scheduler to give managers a fast and easy way to review schedule exceptions for the week they are scheduling. Data on the new report can be grouped by exception type or employee and can be filtered by exception type or schedule.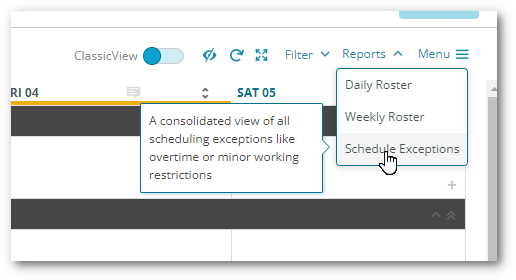 Approval Notifications
We added a new setting that will give companies the ability to disable approval notifications that occur outside a manager's schedule shift time. The new "Manager Approval Push Notifications After Scheduled Hours" setting can be found in the Above Store Console under Configure > Company Settings > General.

The setting is off by default (employees will receive notifications as they have previously). Above Store Console users will be able to turn on this new setting. Once this is active, managers will receive approval notifications only when they are scheduled to work.