Overview
Student Visas can be recorded within employees' personal details, allowing for reporting and scheduling warnings to ensure employees are working the permitted hours.
Global settings in the Rota module combined with the HR configuration ensure a warning appears when scheduling and submitting to Payroll.
How to Assign a Student Visa
Ensure the Proof of Eligibility has been configured with the applicable mandatory settings. See Points to Consider below for a guide to relevant links.
Create a new employee or amend an existing record if that employee now requires a Student Visa
If using a new employee, go to HR module > Employees > Create New Employee
Tick the box against Student Visa?
Or, g

o to HR module > Employees > Employee List > search for and select an existing employee
From the Employee Summary page go to Employee Info > Personal Details
Tick the box against Student Visa?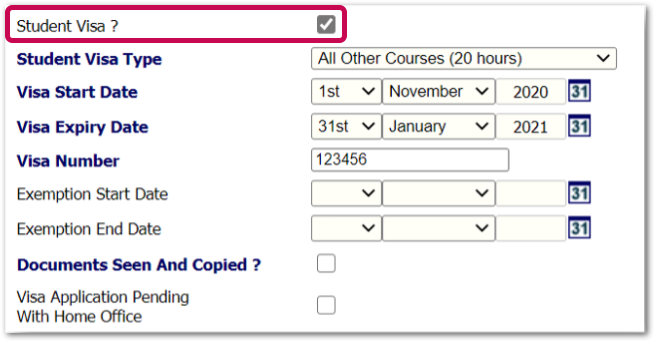 Fig.1 - Employee record requiring student visa
Mandatory Settings
Select the applicable Student Visa Type
Enter the Visa Start Date and Visa Expiry Date required and populate the Visa Number
'Documents Seen And Copied ?' Setting
Documents Seen And Copied ? is a global setting that can be enabled as a mandatory field as shown in Fig.1.
This setting acts as a digital signature and can be reported on in an HR customised report.
To enable this setting, go to HR module > Administration > Global Settings > Edit Default Employee Settings
Tick the box against Student Visa Documents seen mandatory
Exemptions to the Student Visa
Students can be granted an exemption period to their Student Visa depending on a wide range of factors. This allows the employee to work over the 10-20 hour limit on their visa. The global settings on the rota will not produce a warning for these exemption times if the employee is working over the visa stated hours.
Exemption Start Date and Exemption End Date must be populated to avoid the hour restriction on the rota
Reporting on Student Visas
All Student Visa fields are included in the Employee Details section of the customised report functionality in the HR module. This helps to ensure compliance, and identify that the correct documentation is recorded in an employee's record.
HR > Reports > Customised Reports > Create Template > Employee Details Report
Select Student Visa fields as required and Run Report


Fig.2 - Reporting on Student Visas
Settings
Additional settings within the scheduling modules are required to ensure employees on Student Visas do not work over their permitted hours. Below are the instructions required for the Rota module, and additional settings if Labour Productivity/Advanced Schedules is being used.
Rota Module Global Settings
Go to HR module > Global Settings and select Edit against 'Student Visa Settings'
By default these settings align with the Student Visa options in the HR module.

Fig.3 - Student visa settings
Tick the box against Restrict those on student visas from working more than 20 hours/week?
Select Save
Then, still in Global Settings

s

elect Edit against 'Rota Settings'
For the setting Warning Settings For Confliction shifts on Rota, select Warn on Save and Block Submission
This the recommended setting and will warn the manager when saving the Rota but not prevent them from doing so. The manager will be prevented from submitting the Rota to Payroll if they have not rectified the scheduled hours.

Fig.4 - Warning settings
With this setting enabled, when scheduling a qualifying employee and calculating or saving the rota, a pop-up will appear. An asterisk is displayed to remind the manager that the employee is restricted from working more than the allowed hours.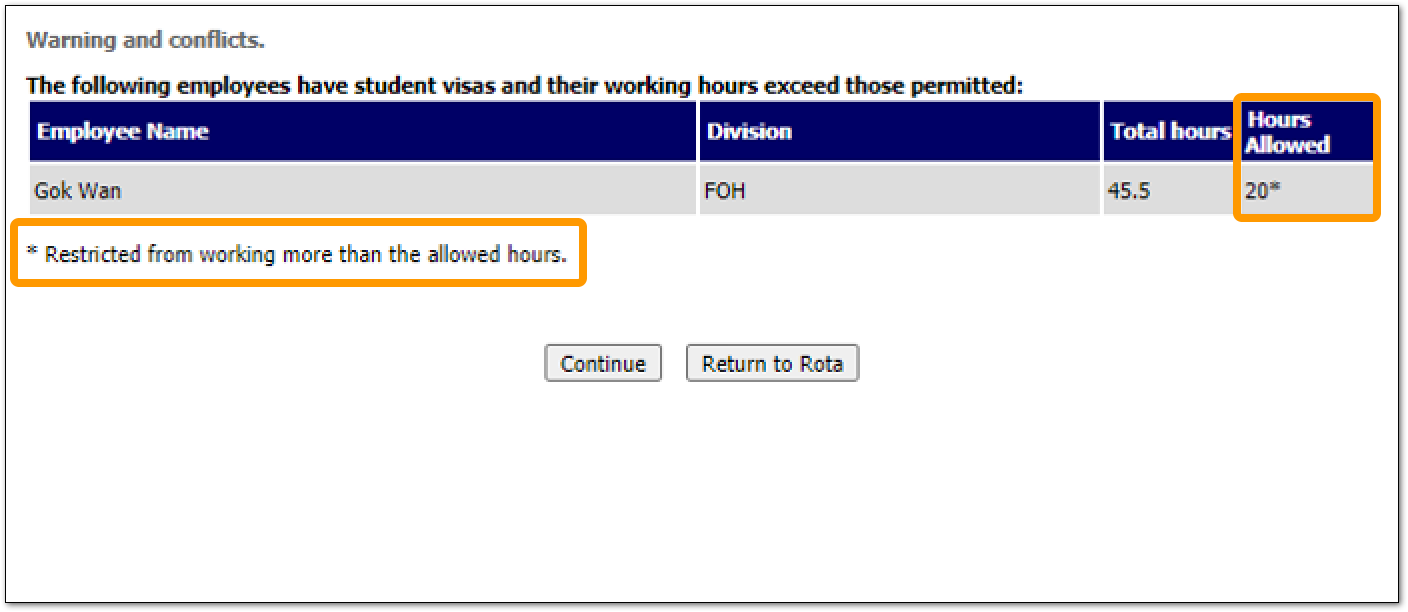 Fig.5 - Warning and conflicts reminder
Advanced Schedules and Labour Productivity
Ensure that the above Rota module global settings are applied before following these steps:
Go to Labour Productivity module > Settings > select Location
Select Edit against the required Organisation and tick the box against Use Student Visa Functionality
Scroll down and select Save


Fig.6 - Student Visa setting in LP
With this setting enabled, when scheduling the employee a pop-up will appear, warning that "The shift cannot be created as the total hours worked will exceed the hours allowed limit on the employee's student visa.".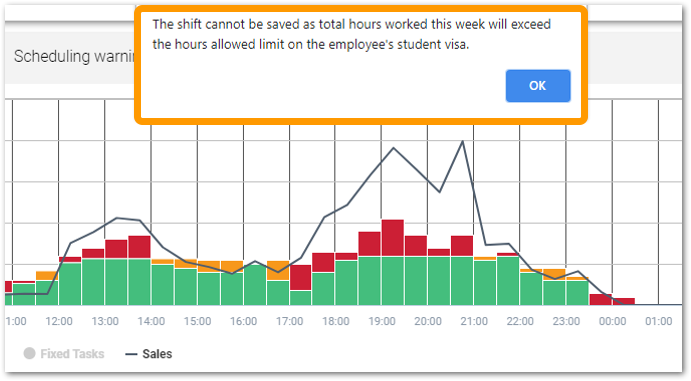 Fig.7 - Student visa warning in LP
The schedule will not be allowed to save for that employee.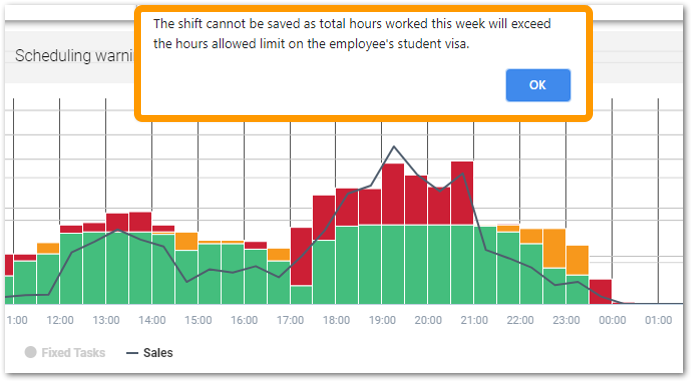 Fig.8 - Shift cannot be saved in LP

Points to Consider
Student Visa Tracking Functionality
Additional functionality to support Visa Tracking is available. This enhancement has been made to allow users to record Student and Work Permit visa applications which are pending with the Home Office. This can also be used to track when the application was submitted and verified.
For further information, please see: WFM UK HR Release Note: Visa Status Tracking.