Overview
Fourth Analytics allows users to export dashboards, reports, and graphs so that the data can be further analysed and shared within the business. This article will explain the Sales dashboard.
The tabs within the Sales Dashboard are:
Daily
Weekly
Period
Year
Trend
Data is shown based on the Financial Calendar provided by the customer and shows as:
52 or 53 weeks in each year

12 or 13 periods in each year, made up of 4 or 5 weeks in each period

Weeks go in line with Rota/Schedule week numbers
Available Sales Types
Data feeds into Fourth Analytics once daily from the core application – Workforce Management (WFM).
Types of Transactions:
Actual Sales
Forecast Sales
Budget Sales
Last Year Sales
Actual Sales – Workforce Management can be either updated manually within Rota/Schedule or automated via an EPOS provider. The Sales data is then exported to Analytics. Therefore, the Sales in Workforce Management standard reports will be the same as the Sales in Fourth Analytics.
Forecast Sales – Forecast Sales are populated manually in the core solution by the Manager who is responsible for scheduling employees.
Budget Sales – Budget Sales can be requested to be loaded once annually or an FTP folder can be provided, so the Budget can be loaded as necessary by your business. Please speak to your Fourth contact if you would be interested as these options are chargeable.
Last Year Sales – Last Year Sales are the Actual Sales for the same day in the previous year.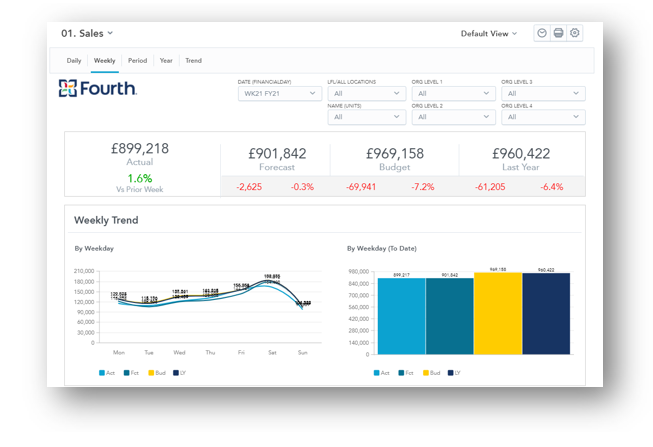 Fig.1 - Weekly tab in Sales Dashboard
Like for Like Reporting
A daily 'Like for Like' (LFL) flag (yes or no) can be configured for each location. The flag is stored by date and allows for WFM Analytics customers to filter Sales for this year and last year based on LFL status.
For more information on like for like reporting please visit Fourth Analytics WFM UK: Like for Like Functionality.
Fig.1 - Like for Like Reporting