Overview
This article describes the process of uploading Sales Budgets and Wage Target %'s into Labour Productivity

For a list of all Scheduling articles, please visit: WFM UK: Revenue-Based Scheduling: Getting Started

Uploading Sales Budgets & Wage % Targets within Scheduling
Before starting this process, please request that all Locations required for Sales and Wage budget uploads have been created within People System and have EPOS ID's set up within Scheduling.

Important Points:
Ensure that the values are changed to 2 decimal places and that there are no blank columns

The current date format should be YYYY-MM-DD. However, this does change sometimes within the system, this will be highlighted and the correct format will be presented

Number format needs to be 2 decimal places (i.e £2345.00 Sales Budgets and 23.45( %) for wage targets )

Each column must have a 0 if there is no data to be entered

Numbers only must be entered

The Value Type column must be blank
Within Scheduling, ensure that the Daily Sales Split has been entered before Weekly Sales budgets are loaded.
To do so, go to Settings > expand the Sales Budget Breakdown Percentages menu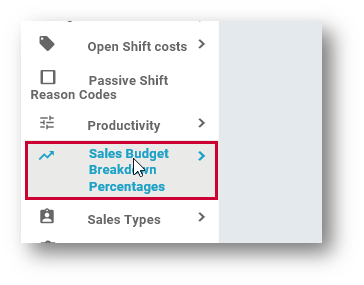 Fig.1 - Budget Breakdown Percentages Menu
Select Budget Breakdown Percentages > Create New > select Location > enter Daily %'s Split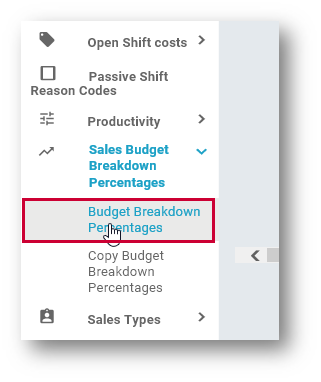 Fig.2 – Expanded Budget Breakdown Percentages

To load in Budget and Wage Targets:
Select a Location > Select Settings > Expand the Uploads menu > Select Budget Upload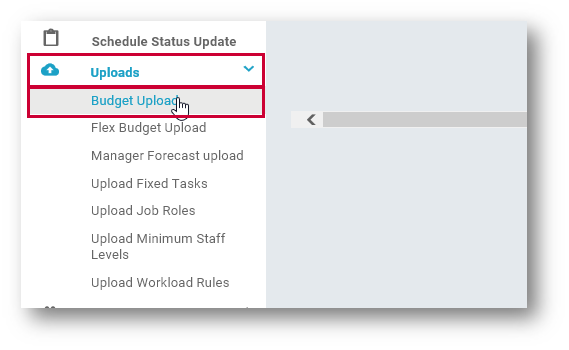 Fig.3 – Budget Upload
Select the file format to upload
In this example, 'UK HR & Payroll Sales Budget Weekly' and 'UK HR & Payroll Wage Budget Weekly' are being used.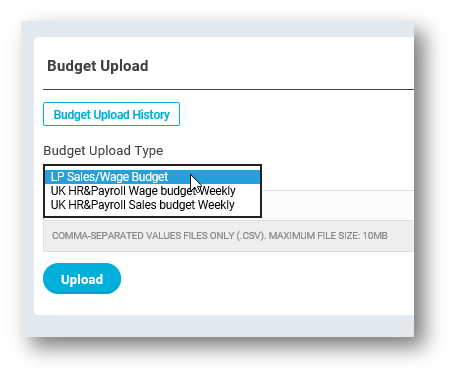 Fig.4 – File Upload
If the upload is successful, the system will display a confirmation message.
The upload can also be reviewed within Budget Upload History

Please Note: If there are any issues importing the files into Labour Productivity, please contact your Fourth representative.


Also See
To load Sales budgets and Wage Targets into any rota reports, please refer to this article - WFM - Sales Budget and Wage Target Templates

Example Wage Target and Sales Budget Templates are attached below: