Overview
When it is time to access your Fourth account, you will receive a Welcome Email with the subject line of Your Global Profile Account from fourthaccount@fourth.com. If you believe that you have not received your Welcome Email in the appropriate timeframe, please ensure that you search for Your Global Profile Account in both your inbox and email spam folders.

Getting Started
Once your Welcome Email has been received, select the CREATE YOUR PASSWORD button shown below and follow the prompts to create your new password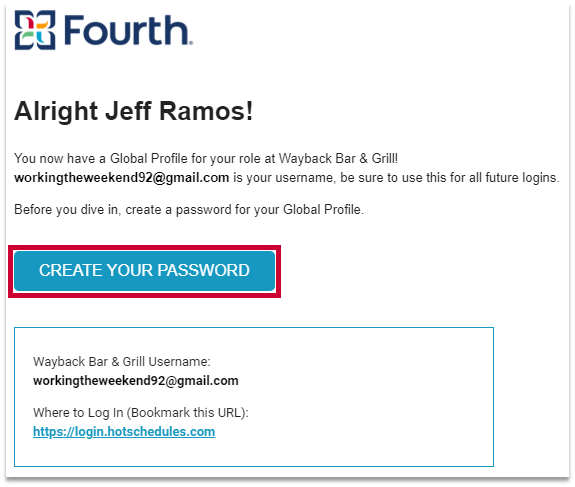 Fig.1 - CREATE YOUR PASSWORD


Once your password has been created and you have logged in successfully, don't forget to bookmark this page for future access!
Please note: If you require access to further applications (Human Resources/Payroll, Applicant Tracking, etc) you must first access your Employee Self Service application. Once accessed for the first time, a member of the Fourth Team will provision your additional access.