Overview

This article describes various troubleshooting tips and areas to check regarding issues within Rotas, including Rota Processes (including submitting Weeks to Payroll, Shifts, Shift Codes, Hours, Rota Analysis, rolling back Rotas) and T&A issues in Workforce Management.

Rota Processes
Submitting Weeks to Payroll
Question / Problem: Unable to Submit Weeks in the Rota module
Before the option to Submit to Payroll is available, all the days within each Division need to be set as Complete, as seen below.

To do so:
The 'Day Content' page will display, where the option to set the day as 'Complete' will be available.
Make any final changes to the rota, confirm the Time and Attendance data if required, then select the Status as Complete using the radio button

Once all the days within the Division have been completed, the option to select Submitted to Payroll will become available to select under the Status drop-down in the main Rota screen.

Once this has been submitted, the Rota week can then be viewed when searching for weeks set to 'Submitted to Payroll' within the 'View Rotas' area.
To do so:
Go to Rotas > View Rotas > set the Status to Submitted to Payroll > Search
Rolling Back Rota
Question / Problem: No Option to Roll Back a Rota

This error can occur if the user does not have access to roll back Rotas.

To resolve, one of the company's Super Users can amend this access for the individual by following:

Rotas > Users > Assign User Access > search and select the user who requires access > User Profile > enable the Rollback Rota access > Save


Shifts
Question / Problem: Setting Default Shifts for Rotas

Default shifts can only be assigned via the Employment Details page.

To access:

Go to HR
In the Employees drop-down menu, select Employee List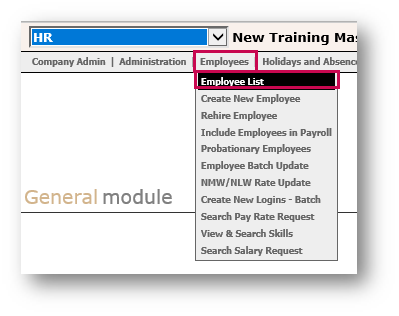 Select the required Employee
In the Employee Info drop-down menu, select Employment Details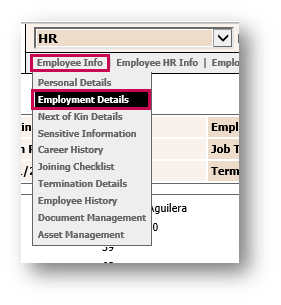 In the 'Default Shifts Worked' area, use the drop-down options on each day to select the required Shifts

Save


These shifts need to be assigned to the correct Locations, Divisions and saved as Default Shifts.
To do so:

Go to Rotas
In the Administration drop-down menu, select Shift Types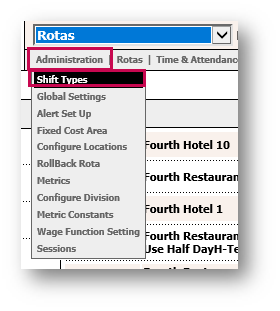 Select the required Shift Type
Use the Assign Locations and Assign Divisions buttons as required to assign the Shift Type to the relevant Divisions and Locations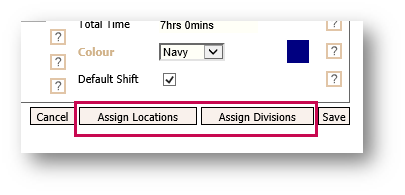 Tick the Default Shift box
Save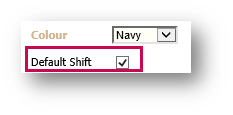 Once assigned, these shifts will appear on the Rota each week for the employee and can be overridden when scheduling if required.


Question / Problem: Unable to Add Shifts to Rota

If Shifts cannot be added to the Rota, e.g. the only options available are 'OFF' or 'HOL', this can be due to the Shift Types not having a Location or Division assigned to them.

To assign these:

Go to Rotas > Administration > Shift Types > select Shift Type > Assign Location
Go to Rotas > Administration > Shift Types > select Shift Type > Assign Division

An alternative method to follow is also available:

Go to Rotas > Administration > Configure Locations > Assign Shift Types > assign Shift Types over > Save
Then go back to Configure Locations
Select the required Location

Select Assign Shift Types by Division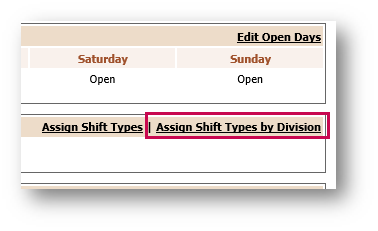 Select Division
Assign the relevant Shift Types using the arrows in the center
Save

Please Note: It is not possible to assign all shifts to Locations and Divisions in one go, as the process has to be done manually.


Rota Hours
Problem / Question: Hours Disappearing from Rota

Shift Codes
If no Shift Codes have been set up for the Division on the Rota, this can cause hours to not feed through to the Rota.

To resolve:

Go to Rotas > Administration > Configure Locations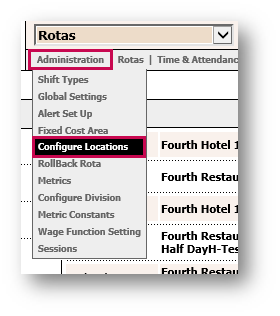 Select the required Location

Select Assign Shift Types by Division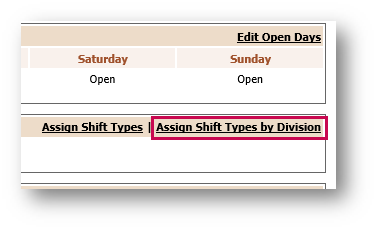 Select Division
Assign the relevant Shift Types using the arrows in the center
Save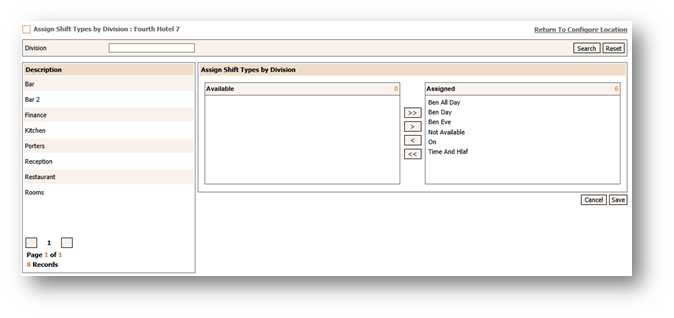 To set up further shift codes –

Best Practice - Creating and Deleting Shift Types

WFM - Creating Shift Types

WFM - Rotas Using Shift Types


Rota Analysis
Question / Answer: Employee Not Displaying in Rota Analysis

Please Note: This section is only relevant for Salaried Employee costs and not hourly/shift-paid employees.

Job Title
Employees not showing in the Rota Analysis can be due to their Job Title not being selected to be included within the Rota.

To resolve:

Go to Rotas > Administration > Configure Locations > select the Location of the Employee > Edit Job Title Salary > set required Job Title to Yes > Save


T&A Issues

Question / Problem: T&A Device Stopped Recording Data

Please note: These steps are for customers who use the Time & Attendance Synel machines provided by Fourth.

Troubleshooting Checklist:

Check that the network cable is plugged into the port labelled 'NET' under the clock

Check the other end is plugged into a live network point

Rebooting the clocks could start to send data through. For non-PoE clocks, unplug the power from the mains for 5 minutes and then plug back in. For PoE clocks, disconnect the PoE injector for 5 minutes and then plug back in

Can employees clock in and out on the clock, or is the power completely off on the clock? Check the Power is Live

Confirm if the firewall is configured to allow outbound traffic on TCP Port 3734

Please also find below the required template to be filled it and sent to your Fourth representative in case an engineer visit is required.

Template Details:

Customer name

Site / Location name and full address

Contact name and telephone number

The issue experienced with the T&A clock

Any error messages displayed

Please Note: If a call out is arranged by Fourth for an engineer and the issue is not related to the maintenance of the clock, then the call out will be charged at £220. Additional charges for parts may be added to the invoice after the engineer has visited is replacements are required, which is not covered by warranty.


Question / Problem: How to Check Clock In / Out Hours

To check the Clock In / Out hours:

Go to Rotas > Rotas > View Rotas > select the required Rota > select the required Day > select the Clock icon

This will open the Time & Attendance page where hours can be viewed.


Question / Problem: Issue Clocking in with Employee Fingerprint

Solutions to this issue, along with a best practice process for enrolling and clocking Employees in and out are detailed within the following article - WFM - Time & Attendance (T&A) User Guide and Troubleshooting Checklist


Question / Problem: Unable to View Clock on Rota

Global Setting
To view the Clock on the Rotas, the Global Setting View Time & Attendance needs to be turned on as this will allow the Time & Attendance functionality / Clock column itself within the Rota to be shown.

To have this setting enabled, please contact your Head Office for them to provide access via the following path:

Rotas > Administration > Global Settings > select Edit next to Rota Settings > tick the Time & Attendance box > Save