Overview

This article outlines the process of sending out documentation from the Pension module as the various trigger points are met in the system.
For all Pensions related articles, please see WFM UK - Pensions: Article Contents Page.

If the system is configured for General postponement notices, once the initial staging process has been completed or a new starter is created, the postponement letters will be available to generate.

If the system is configured for Tailored postponement notices, the postponement letters will be available once the first Payroll is closed.

After the initial staging process, when each pay run is closed, an assessment is completed to calculate employee contribution to the Pension. This process will trigger any enrollment or right to opt in/join documentation that is required.
Please note: On the 17th of November 2022, the Pension Module was updated to send pension documentation automatically if an employee's document was set to send by email. The release note can be found here.
The previous scheduled service which would process and send documents by email/generate to PDF has been replaced by a new service which runs at 3 AM every morning. Even if the global setting (highlighted in the release note) for automation is switched off, anything that is done manually will still use the new 3 AM service.

Sending out Documentation
Go to Pension > Pension Process > Send out Documentation


Fig.1 - Documentation Search Screen
Select the Company and Pay Basis from the drop-down menus
It is possible to search by the type of document by selecting an item from the Type of Document Due list, seen in Fig.2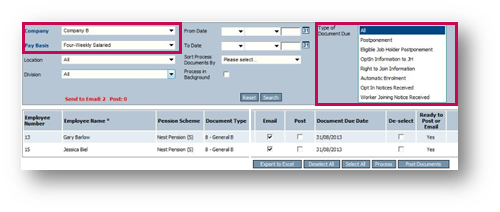 Fig.2 - Employees with Documentation to be Sent

If employees have an email address in the 'Personal Email Address' field in the HR module, the system will automatically select the 'Email' field. If the employee does not have an email address, 'Post' will be selected.

The number of documents to be sent will be visible, as in Fig.3.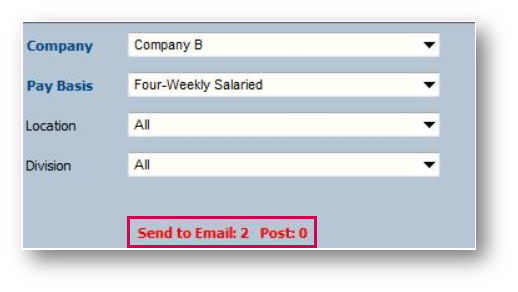 Fig.3 - Number of Documents to be Sent
Bulk Document Generation/Sending

Please note: If the document was set to 'email' and the automation global setting is still switched on, then these documents will be automatically sent at 3 AM each morning with no manual effort required. The below guidance is for any documents set to 'post' or the document was set to 'email' but the automation global setting is switched off. Follow this guidance to ensure an employee's document is set to 'email' so the entire process can be automated.
When the search criteria has been defined, select Search and the system will display all employees who require documentation to be sent to them and the due date.
When all selected documentation is ready to be sent:
If more than 10 documents are required, the process will run in the background and the use of other areas of the system is enabled. An email notification will be sent when the job has been completed if an email address is held within the HR record.
For documents being sent that are set to 'email', these will be picked up at the next 3 AM run and sent out to the employee's personal email address. This means if process was clicked on 12/01/2023 the emails would go out at 3 AM on 13/01/2023.
For documents being sent that are set to 'post', they will require the next 3 AM run to be merged. This means if process was clicked on 12/01/2023, it would require the job to run at 3 AM on 13/01/2023 for the user to return, after 3 AM, to then press Post Documents.
Select View Processed Documents, seen in Fig.4

Fig.4 - Viewing Documentation for Post
Select the hyperlink to display documents in order to download the post file to print


Fig.5 - Posting Documentation
When documentation has been sent, a record will be held on each employee's record for auditing purposes.
To view the documents, go to Employee list > Employee > Employee Pension Info > Document Management
Individual Letter Generation/Template Testing

To test a newly uploaded letter template or if there are under 10 letters to be generated, the process is similar to that described above.
To generate an individual letter when multiple letters are listed, Deselect All
Select an Employee Letter by checking the Email or Post field as required
Select Process

Fig.6 - De-Selecting all Letters
When this has been completed, 'Yes' will be shown in the 'Ready to Post or Email' column, seen in Fig.7.


Fig.7 - Showing letters as Ready to Post or Email
The letter or letters will appear onscreen in PDF format.

Resetting a Letter for Regeneration

If the employee letter tested was not satisfactory, the employee's record can be reset so a new letter can be generated in the preferred format.
Access the 'Employees Information Dates' screen

Go to Employee list > Employee > Employee Pension Info > Employee Information Dates
When a letter is generated from the 'Send Out Documentation' page, the date is written back to the Employee Information Dates page.

Using Fig.8 as an example, a General A Postponement letter was generated on the 12th of November 2013.
To regenerate a Postponement A letter for this employee, this original date can be removed. The employee will appear back in the 'Send Out Documentation' list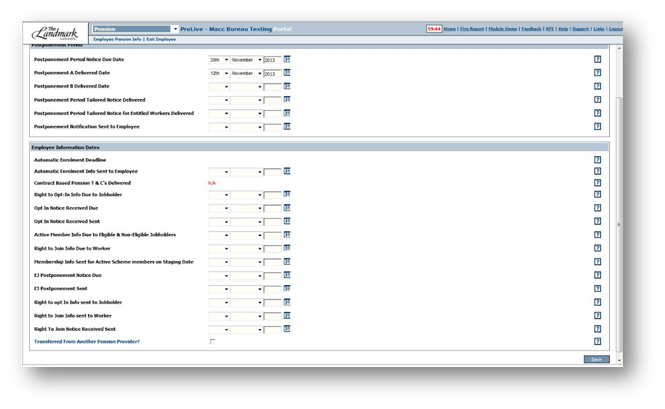 Fig.8 - Employee Information Dates
The same applies for the following fields:
Postponement A delivered date

Postponement B delivered date

Postponement Period Tailored Notice delivered

Postponement Period Tailored Notice for Entitled Workers Delivered

Postponement Notification Sent to Employee

Automatic Enrollment Info Sent to Employee

Opt in Notice Received Sent

Membership Info Sent for Active Scheme members on Staging Date

EJ Postponement Sent

Right to Opt In Info Sent to Jobholder

Right to Join Info sent to Worker

Right to Join Notice Received Sent