Overview
Proof of Eligibility is a document which proves whether an employee is eligible to work in a chosen country of residence. These documents can be created in HR & Payroll so that when an employee is created, the user can select which document is applicable to that particular employee.

This article describes the process of creating and deleting Proofs of Eligibility and assigning Nationalities.
Creating Proof of Eligibility
From the HR Module, select Administration and then Proof of Eligibility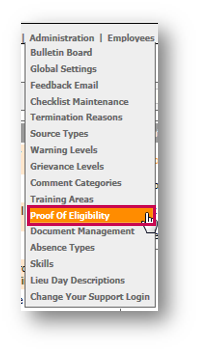 Fig.1 – Proof of Eligibility in the Administration drop-down
Select Create Proof Of Eligibility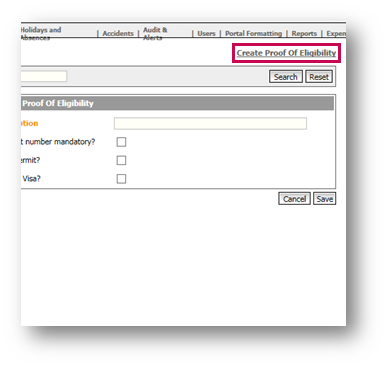 Fig.2 – Create Proof of Eligibility
Enter a Description
Select Passport Mandatory? if applicable
Select Work Permit? if applicable
Select Student Visa if applicable
Save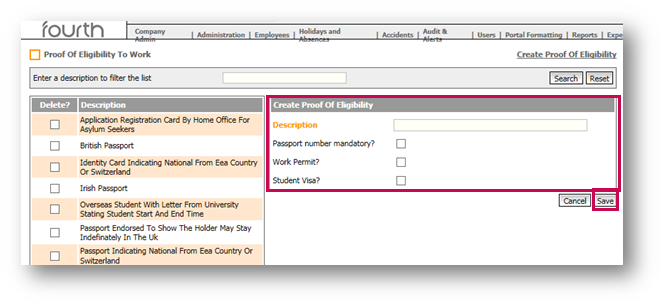 Fig.3 – Edit Proof of Eligibility
Deleting a Proof of Eligibility
Select the required Proof of Eligibility and then Delete
This will remove the Proof of Eligibility assigned to employees, however, the status will stay in any 'Customised Report' until it is updated.
Assigning Nationalities to the Proof of Eligibility
Proof of Eligibility and Nationality are mandatory in the employee record when creating the employee.

Please Note: The Global Setting must be made mandatory for this to take effect.
Select the newly created Eligibility from the list on the right-hand side of the page
Select Add Nationality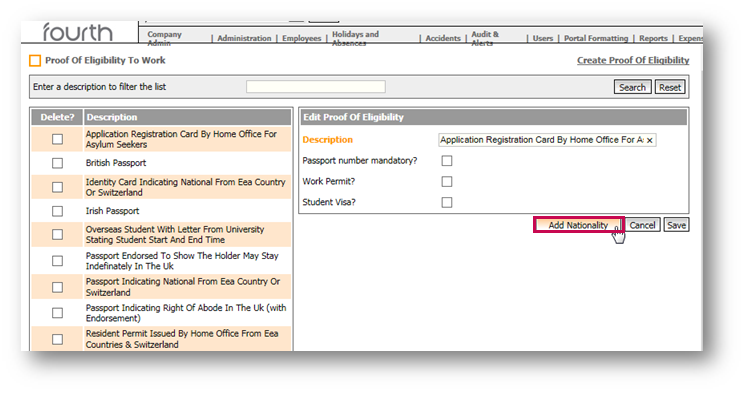 A list of available Nationalities will appear.
Select the appropriate Nationalities on the left and move them to Assigned using the arrows in the centre of the screen
Save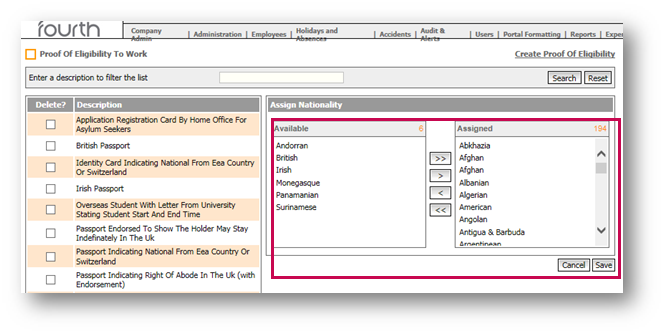 Fig.5 – Assigning Nationalities
How the Proof of Eligibility feeds through to the Employee's Record
Once the Eligibility has been created and the nationalities assigned, it can then be used in an employee's record.
Go to an employee's HR Personal Details screen and in the bottom right corner, the Nationality and Proof of Eligibility can be seen
The nationalities seen in the drop-down will be the ones assigned in the creation progress
Select the appropriate Proof of Eligibility can then be selected, along with any additional Student Visa or Work Permit that was selected in the earlier creation stage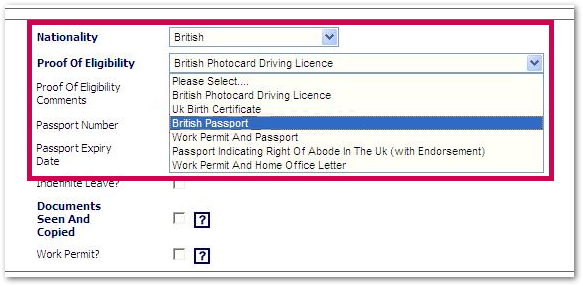 Fig.6 – Employee's Personal Details