Overview
The following document outlines the process to add a pension scheme record to an employee
For all Pensions related articles, please see WFM UK - Pensions: Article Contents Page.
Adding a Pension Scheme Record
Begin by accessing the 'Pensions' screen. To do this, navigate to:
Payroll Module > Employees> Employee List > Select Employee > Employee Payroll Info > Pensions


Fig 1 – Pensions Screen
From this screen, select 'Add New Pension Scheme'.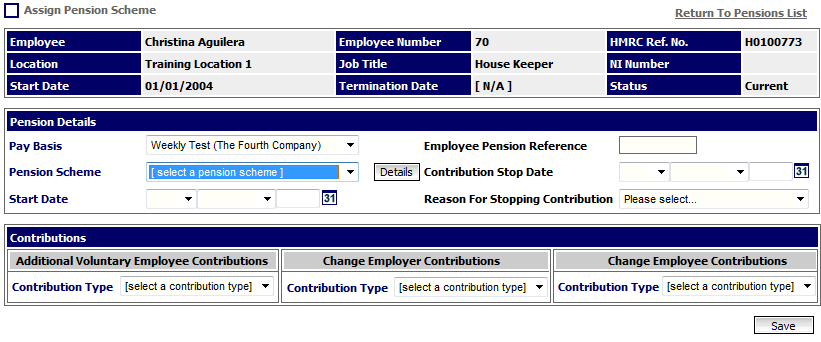 Fig 2 – Assign Pension Scheme
Select the relevant 'Pension Scheme' from the drop down options.
Select the relevant 'Start Date'.
If the employee or employer's contributions will be higher than the minimum default value, select 'Percentage' from the 'Contribution Type' options and key in the new percentage value into the '%' field when it appears. If the default value is to be applied, it is not essential to update the 'Contribution Type' fields.
Once finished, save the record and view the 'Payroll Summary' to ensure pension contribution values are present for the employee.