Overview
This article will guide through how administrators can override a pension contribution.
For all Pensions related articles, please see WFM UK - Pensions: Article Contents Page.
Payment Options
To access the payroll summary, first select the relevant employee that the override will be applied to. To do this, follow the path: Payroll Module > Employees > Employee List.


Fig 1 – Employee List Search
Using the filter options, find the relevant employee.
It is also possible to just select 'search' with no filters applied in order to return a full list of employees.
Once in the employee's file, click the 'View Payroll Summary' link in order to access the employee's summary.

Fig 2 – Payroll Summary Options
Select 'Pensions' from the options at the top of the screen, as can be seen in Fig 2.
Overriding the Pension Value
Once in the 'Pensions' screen, select the pension record that is to be amended.


Fig 3 – Pensions Screen
On the page that follows, it is now possible to update the pension scheme to override the value.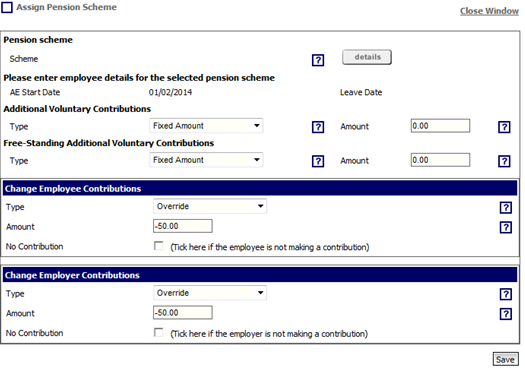 Fig 4 – Assign Pension Scheme Page
Within 'Change Employee Contributions', change the type to 'Override'. The amount should then be changed to reflect the relevant values.
The same process should be applied to the 'Change Employer Contributions'.
Once ready, click the 'Save' button. The screen viewed in Fig 3 will now be updated.

Note: A negative value should be used for refunds, whilst a positive value should be used for contributions.

Also See