This document includes step-by-step instructions for downloading the integration tool.
To ensure your POS is configured properly, please first review our HS Integration Fact Sheet article and the section titled "Hotschedules Integration".
STEP-BY-STEP INSTALL INSTRUCTIONS
1. Log on to the computer where your POS software is located. You must log on as a Windows Admin to complete the upgrade.
2. Open an internet browser and either click on the link below or paste this URL into your browser: https://developer.bodhi.space/download/
3. When this page opens, click the "Download Agent" button.
4. A file named BodhiAgentSetup-x64.exe or BodhiAgentSetup-x86.exe will download to your computer. It can be found in your Downloads folder.
5. Go to your Downloads folder, double click on this file.
6. When the window below appears on your screen, click Run.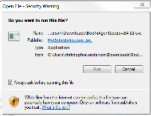 7. Follow all the prompts from the Bodhi Agent Setup Wizard. When you get to the last step, click Finish.
***IF it asks to keep agent identity file -> select NO, this will help ensure the registration code populates.
INTEGRATION INSTRUCTIONS
8. A web page with a six-digit registration code will appear in the center of your screen. This code will be unique to your location. In order to finalize the installation, please email your code to support@fourth.com with your location name (as it appears in HotSchedules) either in the title or body of the email.