Overview
In HotSchedules a Job is used to associate the position or title of your employees. The Job will have a Name, Short Name, Rate, POS ID, Location and Default Schedule. This article covers steps for adding job codes for non-integrated sites.

Please note: Sites integrated with a POS will not be able to add or edit jobs in HotSchedules. All edits to jobs must be completed in the POS system, then the changes will sync to HotSchedules. Reach out to your POS vendor if you need assistance with this.


Creating Job Codes
From the Settings tab, select Store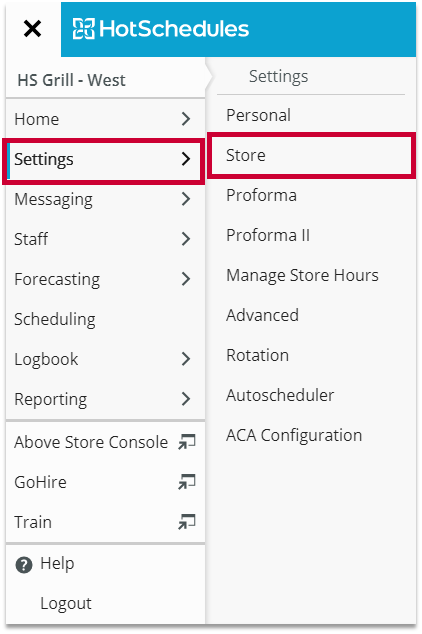 Fig.1 - Navigation
From the Jobs tab, select ADD A NEW JOB

A pop-up window will display:

Enter the Name, Short Name, and Default Schedule as these fields are required. Additional options are Pay Rate, POS ID, and Locations

Select ADD JOB
Please note: Locations will only be available once they are created on the Store Settings page. View this article if you need assistance with adding locations: HS Company Settings: Adding and Editing Locations.
Fig.2 - Adding a job code
Editing Job Codes
Select the three-dot menu for the desired job

Select Edit Job
Edit the Name, Locations, update the Default Schedule if needed
Select DONE when finished
Fig.3 - Editing a Job Code

Inactivating Job Codes
Select the three-dot menu for the desired job

Select Inactivate
Fig.2 - Inactivating a Job Code
Related Articles