Overview
In HotSchedules Labor Categories are used to group your labor cost. You need to have at least one labor category. However, you can as many as your business needs.
For example: You can have Front of House (FOH), Back of the House (BOH) and Store categories. Or simply have a main labor category.
This is where you will be able to view information for all labor categories, and if you have the permission to edit, you will be able to add, edit and inactivate labor categories.
A - Labor Category: This column will have the name of the labor category for your site. Showing active labor categories first and (D) inactive labor categories at the bottom. If the schedule name has a Lock or House before the name, that means this is a group labor category
B - Assigned Schedules: This column will display the assigned schedules for each labor category. You can have multiple schedules assigned to one labor category. But one schedule can't be assigned to multiple labor categories
C - Edit Menu: If you have the permission to edit either site level or group level information. You would be able to use this menu to Edit or Inactive a labor category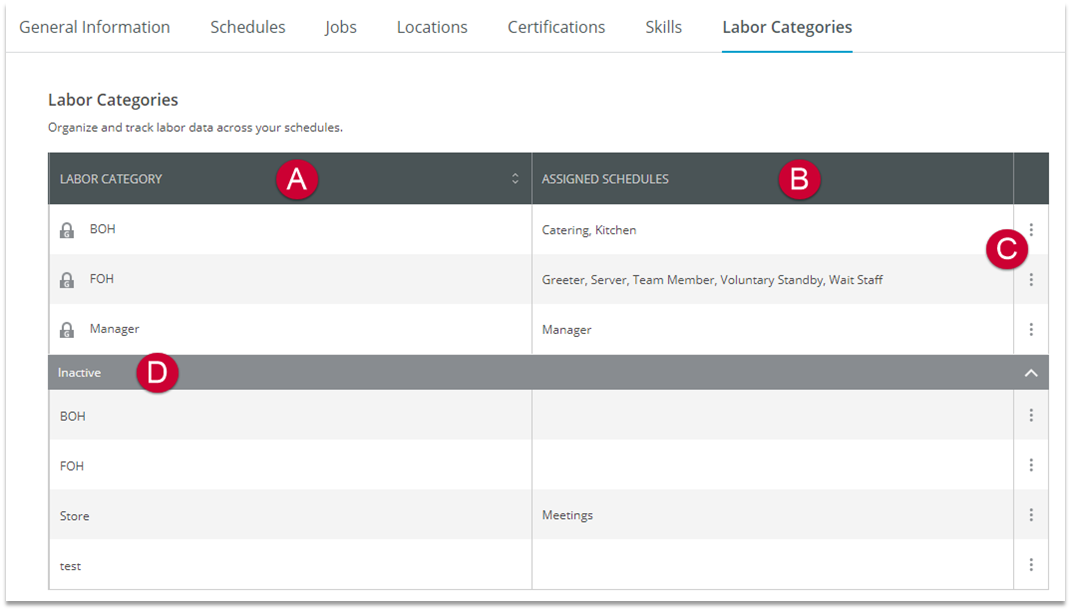 Fig.1 - Labor Categories

Creating Labor Categories
From the Settings tab, select Store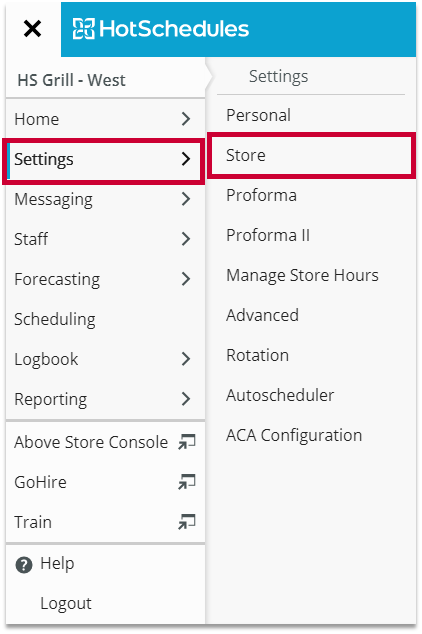 Fig.1 - Navigation
From the Labor Categories tab, select ADD A NEW LABOR CATEGORY

A pop-up window will display:

Enter the Name and select the Available Schedules
Please note: Available Schedules may be selected at a later time if the schedule has not been created.
Select ADD LABOR CATEGORY
Fig.2 - ADD LABOR CATEGORY

Editing Labor Categories
Select the three-dot menu for the desired labor category

Select Edit Labor Category
Edit the Name and/or select the Available Schedules
Select DONE when finished
Fig.3 - Edit Labor Category
Inactivating Labor Categories
Select the three-dot menu for the desired labor category

Select Inactivate
Fig.4 - Inactivate Category