The new Auto Pickup/Release landing page will display any previously-entered submissions including the type of submission it is (A), the date the submission is for (B), what Day Part it's for (C), the minimum amount of time required before a shift's start that it will be picked up (D), what Jobs, Schedules, and Locations a shift must be for in order to be picked up or released (E), and whose shifts you want (F). clicking the pencil for an individual line allows you to edit the entry while clicking the trashcan removes it. To add a new submission, click ADD in the upper, right-hand corner.

By clicking ADD, the Add Auto Pickup or Release modal will display. This is where you can select a date, and customize your submission. The date you select must be the current day or any day within the next 29 days.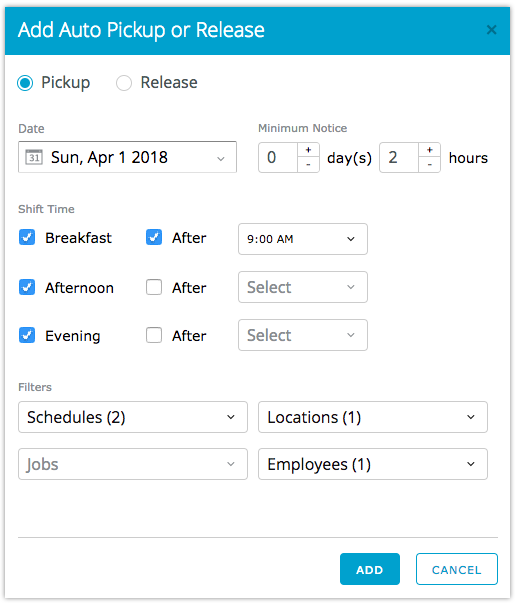 Minimum Notice allows you the time you think you will need before a shift starts. In other words, if you have 2 hours configured, and someone releases their current-day 5:00pm shift at 4:00pm, you will not pick it up.
Shift Time allows you to specify what time of day you're looking to work or when you can't. You can either leave the After box unchecked to select the entire period (Breakfast, Afternoon, Evening), or you can check the box and select a time a shift must fall after before it is considered for pickup/release.
With Filters, you are able to specify which Schedules, Jobs, and Locations you do or don't want to work. Additionally, you are able to select which Employees you to want to pick up from.
In the event you want to edit a submission, simply click the pencil icon for the part of the day you want to edit, and make your change.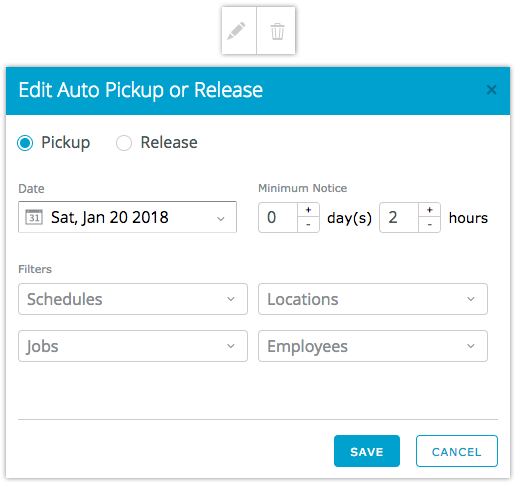 It should be noted that Shift Time is not an option from the Edit modal. If you need to make changes, you will need to add a new submission and remove the old one using the trashcan icon.