The Logbook is an online communication log that managers can use to track operation notes and staff performance. It also contains a feature called ToDos. Managers are able to assign important messages or duties as ToDos to other managers with access to the Logbook. It also gives users the ability to track the progress on ToDos.
Follow these steps to create a ToDo in the Logbook:
Log into HotSchedules and navigate to the Logbook tab. (Or just log into your Logbook account if you use the stand-alone version)
Select the ToDo sublink.
On the next page, you will be able to see any ToDo that you have to complete or that you have assigned to others. You will also be able to select +Add ToDo to create a brand new one.
The Create ToDo window will appear, and you can configure the details of your ToDo.

Type the name of your ToDo in the Subject field.
Use the drop down menu to select whom your ToDo will be assigned to. You can also set this to yourself.
Configure the Due Date and Due Time.
You can also set a Priority for the ToDo and set an alert.
You will also have the ability to leave comments and add a photo.

Select the Save button when you are done.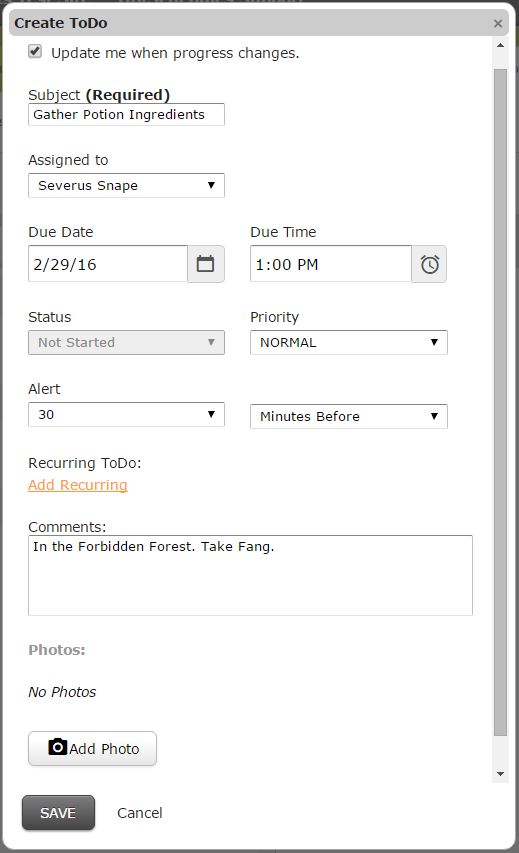 You are able to delete or edit the ToDo at any time.  To Delete a ToDo, click the three-dot action menu, and then Delete.  To edit the ToDo, click Edit.
The staff member can then update the status of the ToDo, plus add comments and photos to make sure you are always up to date on how it is progressing.
Self-Guided Tutorial 
(This will prompt you to log into HotSchedules, and then guide you through the process click by click.)