Overview
Integrated HotSchedules sites display information pulled from the customer's point of sale system. We can use several different types of integration to accomplish this, but this article is for customers using our HSConnect software.
HSConnect runs automatically once a day to pull information into HotSchedules. This can include employees, sales, and labor data. For some customers, we can also set up an import schedules sync that pushes schedule data from the HotSchedules site back into the point of sale system for punctuality enforcement in store.
Although the program will run automatically once a day, HSConnect also allows users to run manual syncs during the day to pull certain information onto the HotSchedules site in the middle of a business day.
For example: If a manager needed to print out a welcome sheet for a new employee that had been added to the point of sale system today, they would need to run a manual employee sync to have the new hire added to HotSchedules. Otherwise, the new employee would populate the following day when HSConnect automatically runs.
Run a Manual Sync through HSConnect
The HSConnect software will be installed on the main back of house computer. There will be a HotSchedules/Fourth icon in the system tray of this computer's desktop (the bottom right corner of your screen, beside the clock). This small HotSchedules/Fourth icon is called the HSConnect Console.
Right-click on the HSConnect Console, a list of the possible syncs to run will appear. Select the sync you would like to run
Please note: The possible syncs will vary based on your configuration.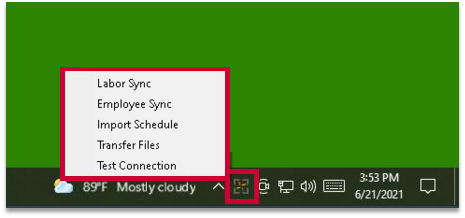 Fig.1 - HSConnect Console
The console icon will turn orange while it is processing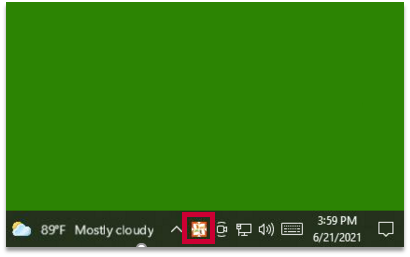 Fig.2 - Sync processing
When the sync is complete, the icon will return to the original grey color (Fig.1)

Log into HotSchedules to confirm the data has populated onto the site