HotSchedules makes it easy for employees to access their work schedules in several ways.
Access Your Schedule on a Computer
Go to www.hotschedules.com
Login with your username and password.
On the Home tab of your account, you will be able to see your schedule under My Plate.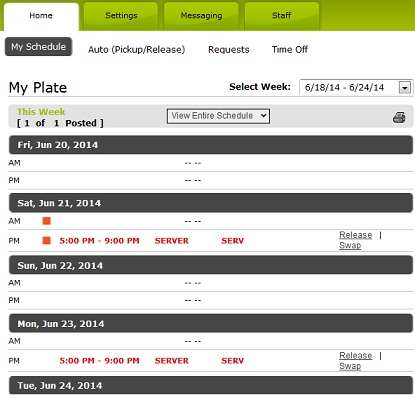 Access Your Schedule on a Mobile Device
You can download the HotSchedules app if you have a smartphone. We currently have an Android, iPhone, and Windows application available in their respective app stores for $2.99.
If you do not have a smartphone or do not want to purchase the app, you can access your schedule through the internet browser on your device. We have a mobile version of the site designed to display better on mobile devices. Please go to mobile.hotschedules.com
Access Your Schedule by Phone
You are always welcome to call us at 866-753-3853.
Once your account is set up, you can use the automated phone system to check your schedule, trade shifts, make requests, and hear messages on your account.
You can also speak to one of our Customer Care technicians.