When tasks are flagged for additional follow up, they appear in the Follow Up area of the DigitalRedBook app. Items remain on the follow up list until they are marked Done. Your Follow Up list might contain follow ups from multiple days.
Tasks that require some additional action after their completion can be marked for a follow up.
!  Completing a follow up is not the same as completing a task. For example, if you have a task on a shift task list to check inventory for eggs, you can enter the count of eggs in the task list to complete the task. If the count falls out of the ideal range, you can mark the task for follow up so that you are reminded to order more eggs. The task is complete, but the follow up is incomplete until you order the eggs and mark the follow up as Done.
You will see several follow up reminders as you are working the DigitalRedBook:
On the Dashboard, you see a count of open Follow Ups and a quick link in the Task Progress area.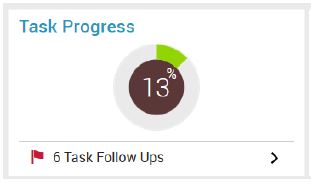 You will also see a count in the Menu, on the Follow Up tab.