HotSchedules users that have our mobile application installed on their iPhone are able to enable Push Notifications.
Follow these steps to enable these notifications on your iPhone:
Make sure notifications are enabled on the HotSchedules app:
Once you have opened the app, you will need to select the Menu button.
Select Settings and then Preferences.
In your Preferences menu you will need to choose Notifications. Here you will be able to enable the notification of your choice, such as New Message.
After notifications have been enabled on the HotSchedules app you will need to configure the Push Notifications in your iPhone settings.
Open your Notification Settings on your iPhone.
Scroll down and choose the HotSchedules app.
You will need to Allow Notifications. In this Settings menu you will also be able to adjust how the notification will appear.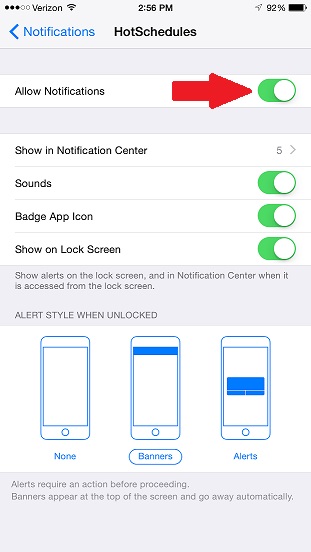 For more information on what platforms are supported, click here.