Overview
This article details the step-by-step experience for a candidate within the Applicant Tracking System (ATS) once they have successfully accepted their job offer - and have been instructed to complete their contract. 

Please note: Only candidates for customers using Signable will need to follow these steps. 


Candidate Journey
1. Accessing ATS
Once a hiring manager has progressed a candidate onto the 'onboarding - collecting documents' stage in ATS - the candidate will receive an email stating the hiring company requires further information. It will feature a hyperlink for the candidate to access their account. Alternatively, the candidate can log in to their account as normal. 
2. Select 'Sign Off Your Contract'
Upon logging into ATS, candidates will be met with a Sign Off Your Contract button that can also be found under the My Applications page (see Fig.1).



Fig.1 - 'Sign Off Your Contract' button


3. Complete the Pre-Modal Widget

Once 'Sign Off Your Contract' (see Fig.2) has been selected, a pop-up will display. The candidate will need to complete the mandatory fields marked with an asterisk.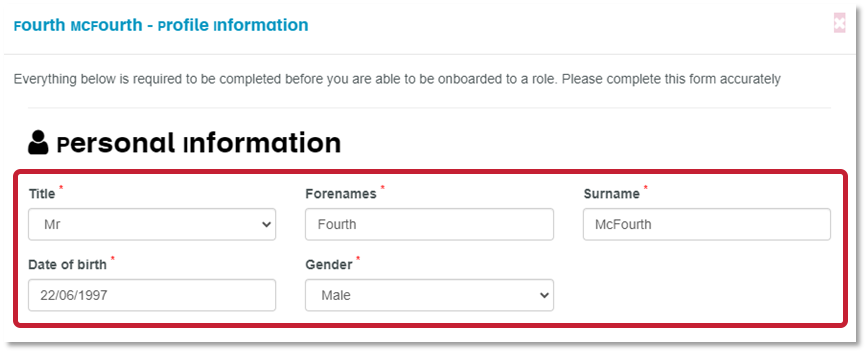 Fig.2 - Pre-Modal widget pop-up

4. Proceed to Signing Contract

After the candidate has provided all of the mandatory information, they will be able to submit this data by selecting Proceed to Signing Contract at the bottom of the pop-up window.




Fig.3 - 'Proceed to Signing Contract' button

5. Action Email

An email will then be sent to the candidate that features a hyperlink to Signable. The hyperlink will take the candidate to their e-document (contract) within Signable, populated with the data provided in the previous steps. This will then need to be completed. 
Common Issues
If your candidate is experiencing any issues around this area of the application process, please refer to this article, which lists the most common issues and how to resolve them.